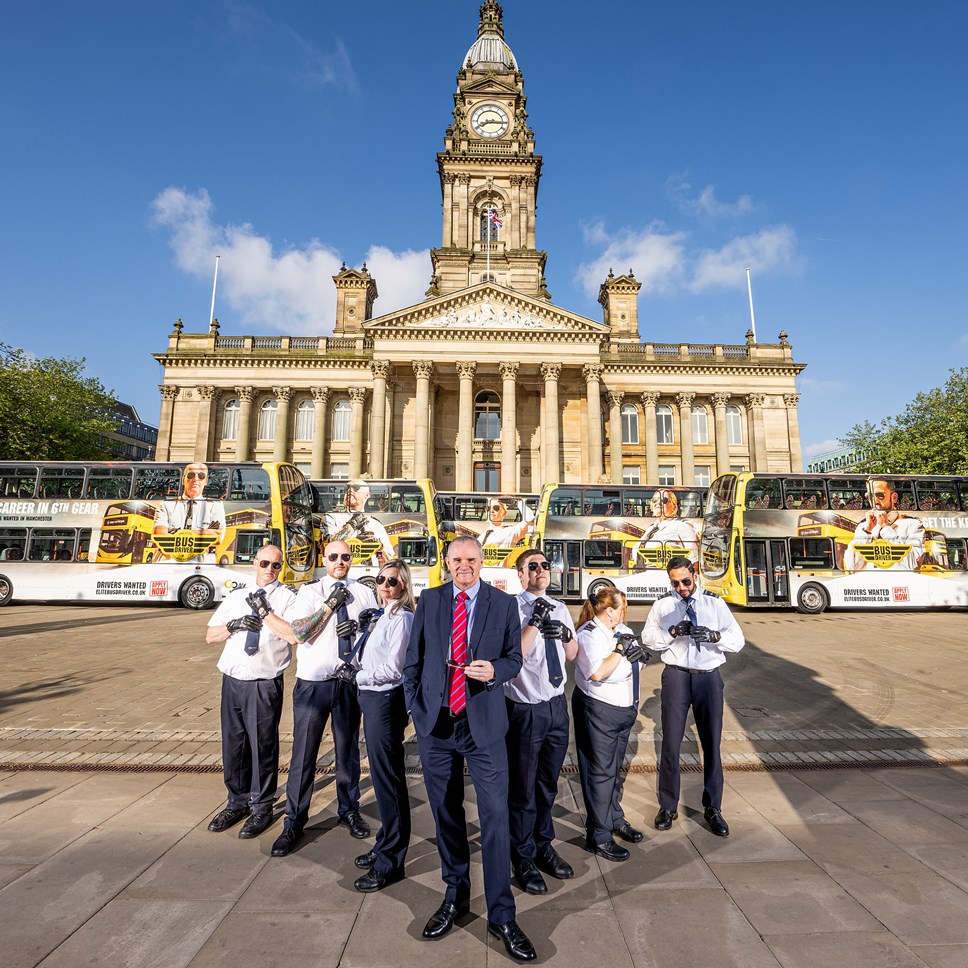 Keeping Manchester moving: Go-Ahead kicks off Britain's biggest recruitment campaign for bus drivers
Go-Ahead's Manchester bus company, Go North West, to hire 300 drivers on apprenticeship or training contracts
The drivers will operate Bee Network buses as part of mayor Andy Burnham's new integrated transport network
The Go-Ahead Group has kicked off Britain's biggest recruitment campaign for bus drivers in preparation for the launch of Greater Manchester's Bee Network public transport service.
Go North West, the group's Manchester bus company, plans to hire up to 300 bus drivers on apprenticeship or trainee contracts for a newly created Elite Bus Driver Academy in Bolton.
The drivers will operate yellow Bee Network buses in Bolton and Wigan from September – the first two areas to be franchised under Transport for Greater Manchester's new vision for local buses.
The Mayor of Greater Manchester, has set out a vision of an integrated London-style transport system bringing together buses, trams, rail, cycling and walking. In an initial step towards this, Go North West was selected by TfGM in late 2022 as the winner of its first two bus contracts.
Andy Burnham, Mayor of Greater Manchester, said:
"Bus drivers play a pivotal role in helping people all over Greater Manchester get to where they need to go.

"The Bee Network is set to transform public transport here and it's great to see this huge recruitment drive taking place, as we prepare for the launch in September, and the creation of hundreds of jobs for local people.

"There's no better time to get involved in transport, so I'd encourage anyone who's thinking about becoming a bus driver to get on board with us."
Themed as 'Be an Elite Driver', a recruitment campaign for Go North West uses fighter pilot style uniforms and imagery. Applicants will be urged to become 'the best of the best', to find the thing that will 'make them awesome' and to brace themselves for a career with 'wheels…that you'll steer'.
They will undertake an intensive six-week training program, open both to existing bus driver licence holders and to those who have never sat behind the wheel of a bus before. Furthermore, Go North West will offer longer term apprenticeships combining studying with hands-on driving, allowing people to earn while they learn.
Nigel Featham, Managing Director, Go North West, said:
"This is a ground-breaking recruitment campaign to match the huge scale of change that we'll be helping to deliver in Greater Manchester's public transport. We've already had lots of interest in driving the new Bee Network buses and we're expecting thousands of applications.

"Our parent company, Go-Ahead, is the largest bus operator in London so we're specialists in busy, joined up urban transport networks. We're very proud to be pioneers in delivering bus services fit for such a great city as Manchester."
Go-Ahead is already one of the largest apprenticeship employers in the UK, taking on 1,100 apprentices annually to train as bus drivers, train drivers and engineers. The group has a strategy of offering apprenticeships in order to widen the diversity of its workforce.
Once the new contracts are underway, Go North West will operate more than 500 buses from Bolton, Wigan and from its existing Queen's Road depot in central Manchester. And the company's facility in Bolton will be the largest UK bus depot outside London.
Bus driver jobs include 20 days' annual holiday, generous pensions and pay rates from £28,000 that quickly increase with experience. Go North West has quadrupled the size of its training team in anticipation of an influx of new recruits.
Contact Information
Go-Ahead Communications