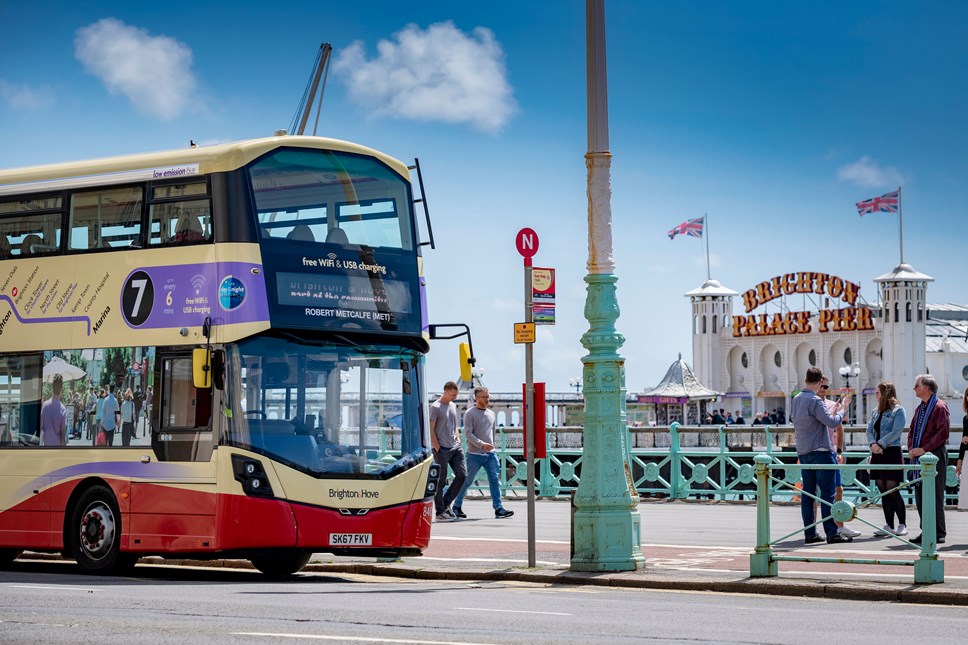 Go-Ahead urges passengers to make better use of the "first and last mile" of their journeys
One of the UK's largest train and bus operators is urging people to start the year in a healthy way by making walking, cycling or running a part of their everyday commute.
The Go-Ahead Group is encouraging commuters to consider taking exercise for the first or last mile of their journeys to help many hit the recommended healthy minimum of 10,000 steps per day.
A third of working-age British adults don't meet World Health Organisation minimum guidelines for exercise
People who commute by bus or train can typically accumulate 20-28 minutes' physical activity per day
A short walk or cycle ride to a station can deliver huge benefits in physical and mental health
Go-Ahead research finds 28% of drivers would be willing to consider an active component as part of their journey
Fewer car journeys to stations would improve air quality and reduce traffic disruption during the rush hour
Go-Ahead, in partnership with active travel experts RunFriendly and the University of Leeds, has published a study examining the health benefits of active travel combined with public transport, offering a compelling alternative to driving for all or part of daily commutes.
Given what are now widely described as public health crises in air quality as well as adult and child obesity, this new study suggests that the time and money-saving opportunities of being active as part of our daily commute are compelling. Given the habitual patterns of commuting, small changes can also help in finding - and then sticking with - more positive, healthy everyday behaviours.
The World Health Organisation recommends that all adults either spend 30 minutes on a brisk walk or cycle, five days per week. A third of UK adults don't meet this. Of those who don't, 38% of men, and 37% of women, saying they don't have enough leisure time.
People who travel by public transport on average accumulate 20-28 minutes' of physical activity as part of their regular journey. Go-Ahead's activity suggests that the WHO's minimum standard of exercise could be achieved for millions of people simply through re-thinking their journey to and from work – either walking, running or cycling to or from a station.
The benefits of active travel for the first or last mile of a public transport journey include a reduced risk of heart disease, cancer or strokes. A 10-minute brisk walk, such as walking to the bus stop, can increase mental alertness, energy and positive mood1, while people who participate in daily physical activity also have approximately a 20% - 30% lower risk of depression and dementia2.
Go-Ahead and RunFriendly's research finds that 54% of walkers, 36% of cyclists and 39% of runners say that their journey gives them time and space to think about their day, and a majority of commuters using active modes of transport agreed that their first or last miles were relaxing and enjoyable.
Furthermore, 28% of drivers agreed that active travel would be feasible as part of their commute, reflecting the opportunity for further change.
Katy Taylor, Go-Ahead's Commercial and Customer Experience Director, said: "It's a challenge, in a busy life, to find the time for exercise. The first and last mile of a daily commute are an often overlooked opportunity. We know this isn't possible for everyone but January is a time of year for taking up new habits, and Go-Ahead is working with local partners to support those who want to be more active.
"Heart disease and obesity are public health crises in this country. So, too, is air quality, which is worsened by traffic congestion. A small change in behaviour every day can deliver very substantial benefits over the course of a year."
Prior research has found that replacing short car trips with active travel would save £17bn in healthcare costs over a 20 year period thanks to reduced risks of cancer, heart disease and diabetes3.
RunFriendly Chief Executive Scott Cain said: "Many of us begin the new year full of good intentions, including to find time to get fit and live well. Yet such resolutions often don't last. By contrast, our research with Go-Ahead gives evidence of what works, in ways that fit with busy lives. Being active in how we begin and end our daily commute - for example running or cycling to or from the station or from the station to work - can often save time rather than eating into it."
"That's one of the reasons our research shows 66% of people would value the opportunity to do exercise as part of their commute. Why not give it a try following some of our RunFriendly tips on how you can keep up the good habits to make the 'new year, new you' better than ever."
https://www.go-ahead.com/en/future-of-transport
– Ends –