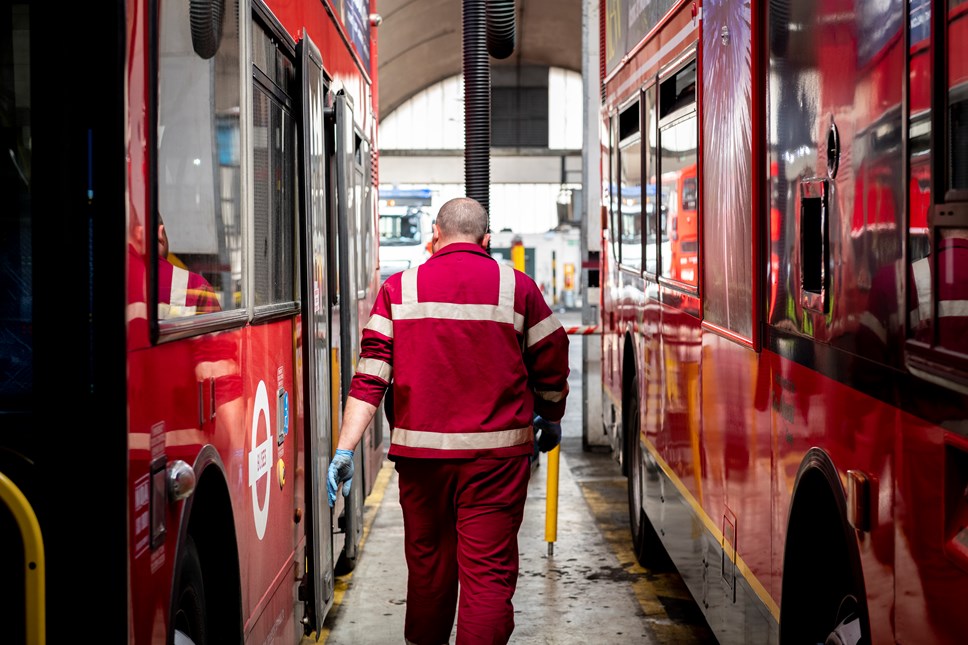 Go-Ahead takes steps to safeguard transport workers' mental health during COVID-19 pandemic
Southeastern to launch mental health charter for rail operators this month, with the aim to extend to bus
Covid-19 pandemic sharply escalates stress, anxiety and isolation among transport workers
Go-Ahead is training Mental Health 'First Aiders' at every UK rail and bus business
Go-Ahead companies are setting out best practice for mental health in the transport industry, with wide-ranging initiatives to create a supportive working environment. This is in advance of mental health awareness week (10-16 May).
Southeastern is due to launch the railway industry's first ever Mental Health Charter this month, which sets out eight actions that can be taken by organisations to identify mental health hazards, address problems and train supportive managers.
Designed by Southeastern Mental Health Lead, Lee Woolcott-Ellis, the charter can be signed by any organisation associated with, or supporting, the railway industry in the UK.
At Southeastern, the number of colleagues seeking mental health support from first aiders rose by 146% to 444 in 2020. The primary causes for intervention were anxiety, bereavement, loneliness, relationships and a reduction in household finances.
Govia Thameslink Railway (formed of Gatwick Express, Thameslink, Southern and Great Northern railways) recently won an Inside Out award for its mental health initiatives. This includes a network of more than 100 'Wellbeing Champions' and a volunteer support group for colleagues through Covid.
The company hosted 1,500 support sessions last year through its Employee Assistance Programme and other wellbeing initiatives. In 2020, GTR launched two pilot mental health hubs for customers and the community at Brighton and Eastbourne stations.
Meanwhile, Go-Ahead is training mental health champions at all 10 of its UK and Irish bus companies. They are trained to spot triggers, reassure people in distress and seek support.
Go-Ahead London – which operates a quarter of the capital's iconic red buses - is going one step further, setting a target to train every depot manager in mental health awareness.
Four-fifths of Go-Ahead's workforce is male, although initiatives are in place to encourage more women to consider careers in transport. Men are more likely than women to have lower levels of life satisfaction and are less likely to access mental health support.
Brighton & Hove and Metrobus was the first Go-Ahead bus company to launch the mental health first aider programme in 2020. A tenth of the workforce has since used the scheme, with the majority of calls regarding pandemic-related anxieties.
Sam Facey, Go-Ahead's Head of Safety, said: "The COVID-19 pandemic has been a particularly challenging period for transport workers who have kept essential services running throughout the year, irrespective of restrictions in other walks of life.
"At Go-Ahead, we want to make sure that everybody within our business is properly supported. There must be no stigma around mental health, and we want to make sure that everybody knows that help is at hand when they need it."
In 2021, Go-Ahead launched quarterly pulse surveys across all its bus companies to gather consistent and frequent data across more than 10,000 bus workers' wellbeing.
Contact Information
Go-Ahead Communications
Notes to editors
Contact:
Sophia Danielsson-Waters (Go-Ahead): communications@go-ahead.com / 07970 726385
Andrew Clark (agency, Shepperton Consulting): 07932 677184
About the mental health charter
The charter sets out eight actions that can be taken by organisations to identify mental health hazards, provide support and reduce stigma in the workplace. These are as follows:
Senior level sponsorship or accountability
Health monitoring and hazards management
Accountability, and advocacy, champions
Raise awareness about mental health
Policies addressing mental health in the workplace
Colleague experience sharing
Equip line managers to have mental health conversations
Signposting information and support services
Case studies – two of Go-Ahead's mental health first aiders:
Lee Woolcott-Ellis
For nearly 50 years, Lee kept quiet about the abuse he had suffered as a child in the boarding school system in the 1970s. That was until one day in 2013 where it became all too much. He decided to speak out and get help for the first time.
After working as a High Speed On Board Manager, Lee is now the Mental Health Lead at Southeastern Railway and has pioneered a new Railway Mental Health Charter to help colleagues across the industry.
The rail industry is male-dominated, so in being a male spokesperson on mental health he has helped break down barriers and has helped transform the way Southeastern approaches mental health.
He has helped numerous staff members across Southeastern with one even saying that Lee's help had "saved his life". He has written a memoir - 'A Childhood Not Easily Forgotten'.
Kev Flannagan
With more than 20 years' experience in the bus industry, Kev has seen first-hand the 'seismic shift' in the sector's culture and how it deals with mental health: "15 years ago, if a driver was off sick for depression, you'd never know. It's a lot more open now."
Having suffered with his own mental health crisis six years ago, he signed up to be in Oxford Bus Company's first ever cohort of Mental Health First Aiders. He says: "Knowing where the bottom of the barrel is – you don't want to see anyone else hit it."
The Service Delivery and Private Hire Manager now helps other bus workers work through their mental health problems and identifies people who may feel vulnerable.