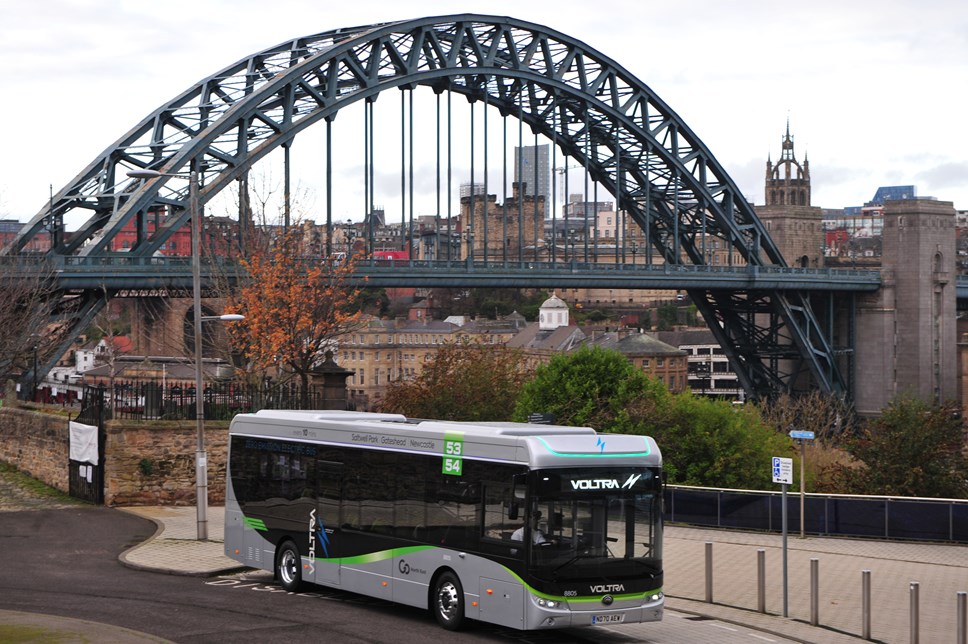 Vote for Newcastle! Go-Ahead backs bid to host Britain's railway HQ
The Go-Ahead Group plc is backing its home town by supporting Newcastle's bid to host the headquarters of Great British Railways (GBR).
With a skilled workforce, a rich heritage in transport and great connectivity, Newcastle is the perfect location for the new body which will oversee Britain's 20,000 miles of railway.
Go-Ahead, which employs more than 2,000 people locally and has its registered office in Newcastle city centre, is proud to support Newcastle City Council's initiative to bring GB Railways to the north-east.
A competition to select the location for GB Railways' head office was announced by the Secretary of State for Transport in 2021. Out of 42 expressions of interest, Newcastle was named in June as one of six shortlisted cities to be put to a public vote.
Carolyn Ferguson, Go-Ahead's Group Company Secretary who is based out of Go-Ahead's office in Grey Street, Newcastle, said:
"As an international transport company originating from the north-east, Go-Ahead fully backs the Newcastle's bid to host the headquarters of Great British Railways.

Newcastle is a vibrant city packed with innovation, excitement and ingenuity. It's a great place to live, work and do business, and it's full of transport talent and experience. We urge everybody to vote for Newcastle in this competition – and we look forward to welcoming Great British Railways to the city."
GB Railways will be a single, accountable body responsible for Britain's railways, as set out in the Williams-Shapps Plan for Rail published in May 2021. The Government wants this new organisation to be based outside London.
Newcastle City Council has proposed two sites for the headquarters – the Stephenson Quarter, where Robert Stephenson's original locomotive works were established in 1823, or Forth Good Yards – location of the original passenger station when the railways came to Newcastle in 1839.
Sam Cassidy, Inward Investment Manager, NewcastleGateshead Initiative, said:
"I would like to thank Go Ahead Group for their support with the Newcastle bid. We're a region that knows the importance of collaboration and this is yet another great example. Our partners and stakeholders are passionate about the future of our city, its growth, and the opportunities investments like this can bring.

"This investment creates a visible and meaningful commitment to Levelling Up and would provide a further boost to our regional economy, delivering new jobs and opportunities for those who live and work here. It will also be a catalyst for further investment and opportunity, creating a new chapter and legacy in our railway history. The pride and ambition from partners like Go-Ahead Group, who are so committed to ensuring our city is full of opportunity, is invaluable."
The Newcastle city region is home to 2.6 million people and 70,000 businesses. Nine million people pass through Newcastle central station annually, and the city is well connected, with 80 direct destinations from Newcastle airport. The average journey to work for people in Newcastle is 7.8 miles – the lowest in England.
One of the largest transport companies based in the region, Go-Ahead was founded in 1987 through a buy-out of a Gateshead bus company. The Group now operates bus and rail in six countries – including Govia Thameslink Railway in the UK, which runs Thameslink, Southern, Great Northern and Gatwick Express services. In the Newcastle area, Go-Ahead runs buses under the Go North East brand.
You can back the bid and vote for Newcastle to become the home of Great British Railways, voting closes on 15 August: http://www.gbrtt.co.uk/hq-competition-public-vote
The final decision will be announced later this year by the Secretary of State for Transport.
Contact Information
Go-Ahead Communications
Notes to editors
For further information, please contact:


Andrew Clark
Corporate Affairs Director
The Go-Ahead Group
andrew.clark@go-ahead.com
07977 343846
GO-AHEAD
Go-Ahead is a leading public transport operator, connecting communities through bus and rail services. Our purpose is to move you, and the next generation, towards a smarter and healthier planet.
We employ more than 27,000 people across our bus and rail businesses in the UK, Singapore, Ireland, Sweden, Norway and Germany. In addition to the travelling public, our customers include governments and local authorities. We are committed to tackling climate change, poor air quality and social isolation.
BUS
Go-Ahead is one of the UK's largest bus operators. We run a fleet of more than 6,000 buses across England and run a quarter of London's buses for Transport for London. Outside London, we serve high-density commuter markets in the North East, Greater Manchester, East Yorkshire, Oxfordshire, East Anglia, the South East and the South West of England. Internationally, we operate buses in Singapore, Ireland and Sweden.
RAIL
We operate rail franchises in the UK, Germany and Norway. In the UK, we run the country's largest passenger contract, GTR (Southern, Gatwick Express, Great Northern and Thameslink). This is managed through our 65 per cent owned subsidiary Govia, which is 35 per cent owned by Keolis. In Germany and Norway, our contracts are run exclusively by Go-Ahead.