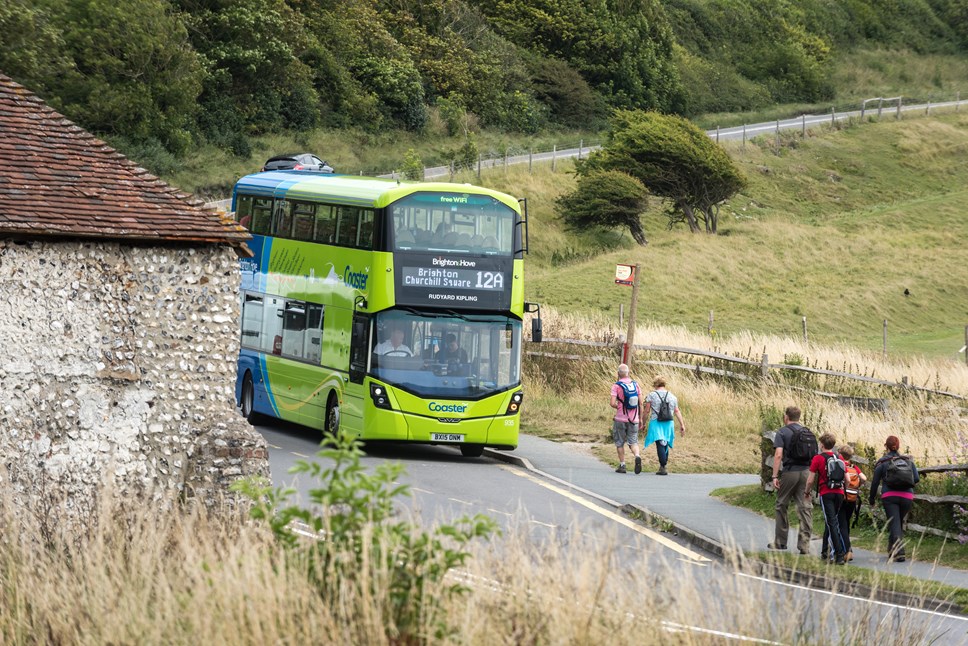 Top ten journeys to see Britain by bus: Go-Ahead selects its most scenic routes
What better way to see Britain's dales, beaches, villages, and cityscapes than by bus? The Go-Ahead Group, which operates buses from the tip of Cornwall to Northumberland, has picked out ten of the best from its nationwide route network.
The list is inspired, in part, by the Reverend Richard Coles, the broadcaster and former Church of England parish priest, who recently named Go-Ahead's number 12 service from Brighton to Eastbourne as "the best in the world".
Reverend Coles said: "I will always encourage people to travel by bus because it's a great way to see the country and takes cars off the road."
Stretching from the Isle of Wight to Hadrian's Wall, Go-Ahead's favourite journeys are as follows. Welcome aboard!
The Moors Explorer, East Yorkshire buses
East Yorkshire Buses' Moors Explorer is the perfect way to travel to the North York Moors from Hessle, Hull, Cottingham and Beverley and a great opportunity to explore the area's quaint villages. The route takes travellers to the picturesque Hutton le Hole or the Moors National Park Centre at Danby.
Moors Explorer returns for summer 2022 - East Yorkshire (eastyorkshirebuses.co.uk)
Needles Breezer, Southern Vectis
The Needle Breezer route goes from Yarmouth to Needles Battery and back via Freshwater Bay, Alum Bay, Totland. It is one of the most spectacular bus rides in all of England, an open-top ride with views that will simply take your breath away.
Enjoy a cliff-hugging, dizzy climb from Alum Bay right up to the Needles Battery, high up where the vistas out to sea are intoxicating. The route also links Yarmouth to Freshwater Bay, Dimbola Museum and Galleries, Farringford Estate, Fort Victoria Country Park, as well as historic places of interest and areas of outstanding beauty.
https://www.islandbuses.info/services/SVCT/TNB?date=2022-05-11&direction=outbound
Hadrian's Wall Country Bus, Go North East
Hadrian's Wall Country Bus makes it easy to explore our Roman heritage and to visit some of the country's most spectacular landscapes – along the defensive foundation that once protected the northern reaches of the Roman empire. The journey will immerse passengers in time travel and provide glimpses of what life was like in Roman times.
AD122 Hadrian's Wall Country Bus - Go North East
Ocean City Sights, Go South West
Plymouth CityBus's number 25, known as Ocean City Sights, is a circular route from Plymouth City Centre around the historic Barbican and onto Plymouth Hoe and Plymouth Sound. The route is often served by an open top bus so locals and tourists can see the city from the best vantage point.
25 - City Centre to Plymouth Hoe, via Barbican and West Hoe (Open Top) | Plymouth Bus
Breeze, Brighton and Hove and Metrobus
The Breeze bus routes wind their way through the South Downs National Park. With 'Breeze Up To The Downs' you can swiftly speed out of the busy city and be surrounded by quiet, picturesque natural vistas in under an hour. The bus services take passengers to the Sussex Downs beauty spots of Devil's Dyke, Stanmer Park and Ditchling Beacon.
Breeze up to the downs - Brighton & Hove Buses
River Rapids, Oxford Bus Company
The River Rapids buses from Oxford to Reading or Henley-on-Thames make for fabulous car-free days out. With the River Rapids buses, you can explore the delights that South Oxfordshire has to offer. On this journey you can enjoy flowering gardens or ruined abbeys, award-winning museums, and riverside pubs.
River Rapids - Oxford Bus Company and Thames Travel
No 100 Salford Reds, Go North West
Route number 100 on Go North West's network starts in Manchester and winds its way out of the city to Warrington, via Salford Shopping Centre. On the way, it passes landmarks such as the AJ Bell Stadium, Barton Aerodrome (City Airport) and some refreshing green fields as the urban sprawl comes to an end.
100 Salford's Reds - Manchester to Warrington | Go North West
Purbeck Breezer, No. 50, Morebus
Take a day out to the beach on the Purbeck Breezer - the number 50 from Bournemouth to Swanage, via Sandbanks and Studland. Sandbanks is known for its golden sands and clear waters. At Shell Bay & Studland you can take in the sea breeze, explore the dunes and nature reserve.
https://www.morebus.co.uk/services/WDBC/50
Clacton Breeze, Hedingham and Chambers
Go East Anglia's Route 97/98 from Walton on the Naze to Clacton on Sea along the Essex Sunshine Coast is not to be missed. The open top bus offers a glimpse of traditional English seaside scenes, passing scenic beaches, promenades, beach huts and cafes. Step aboard and admire the surf breaking on the shore.
97 - Clacton to Walton on the Naze | Hedingham and Chambers
The No 12 Coaster, Brighton and Hove Bus
Finally, Brighton and Hove Buses, the No12 Coaster goes from the city of Brighton with breath-taking views of coastal scenery through to the picturesque town of Eastbourne. Enjoy the journey from the top deck, taking you via the Sea Life Centre, Rottingdean, Peacehaven, Seaford, Seven Sisters and East Dean.
Contact Information
Anupa Devi
Notes to editors
Anupa Devi
Corporate Communications Manager
The Go-Ahead Group
07773 668485
anupa.devi@go-ahead.com