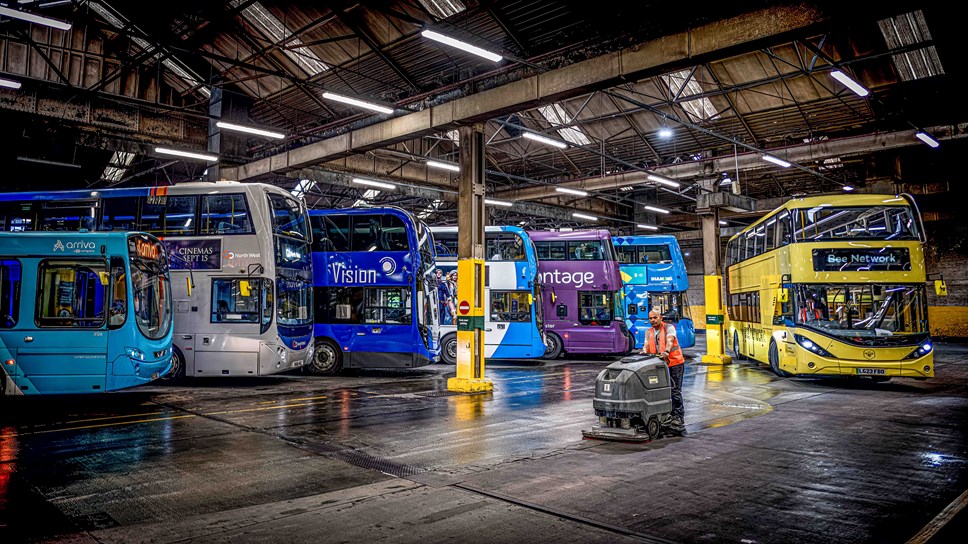 The final countdown: Go-Ahead prepares to operate Manchester's first Bee Network buses
Yellow Bee Network buses will roll out of depots in Bolton and Wigan on Sunday morning
Customers to benefit from safe, secure, comfortable zero-emission buses
Go North West welcomes colleagues from 6 incumbent bus brands, plus drivers new to the industry
Over 1,000 colleagues are ready to operate 320 buses on 50 routes
The Go-Ahead Group is making final preparations to run Manchester's first Bee Network buses this weekend, with services due to begin on Sunday on 50 routes in Bolton and Wigan.
More than 1,000 colleagues at Go-Ahead's Go North West operating company are involved in a team effort to run the yellow-branded buses, which mark the start of Transport for Greater Manchester's Bee Network – which will be an integrated system bringing together all modes of local transport.
Mobilisation efforts have been underway for 10 months since the award of a contract to Go North West by TfGM. Go North West is taking over two depots from outgoing operators and buses will be swapped out, with fully trained new drivers in place, overnight.
Bee Network buses will replace Manchester's six incumbent bus brands over the next 18 months, providing a joined up network for passengers. This weekend is the first of three phases in which buses across Greater Manchester will go yellow. Six liveries from legacy bus companies will eventually disappear.
Of the Bolton and Wigan fleet, 50 buses are zero-emission electric vehicles and all are fully accessible. All the buses on the network are equipped with passenger information screens and space for two wheelchairs, plus CCTV and two-way radios for security.
Go-Ahead brings expertise in franchised bus services from its track record as London's largest bus operator, running a quarter of buses in the capital. The company also runs buses under contract for transport authorities in Ireland, Sweden and Singapore.
Fares remain £2 for an adult ticket, or £1 for a child.
Nigel Featham, Managing Director, Go North West, said:
"It's all change for Manchester's buses and we have a team of over 1,000 people ready to go this weekend. We've been working around the clock for months on a mammoth operation – every vehicle, every depot and every driver needs to be ready.

"We are determined to deliver world class public transport for a world class city. Go-Ahead is proud to be working with the Mayor and with Transport for Greater Manchester over this exciting changeover weekend."
Contact Information
Go-Ahead Communications
Notes to editors
Picture information:
Making history: the Bee Network launches this Sunday, 24 September 2023 at 02.00hrs
After months of preparation Greater Manchester is getting ready for a new beginning. Overnight Go North West will welcome 600 colleagues across Bolton and Wigan.
Bus drivers, engineers, cleaners and office staff from across 6 operators will all come together as one - ready to deliver The Bee Network.
For further information, please contact:
Andrew Clark
andrew.clark@go-ahead.com
07932 677184


Chloe Leach O'Connell
chloe@loc-consultancy.co.uk
07796 276598