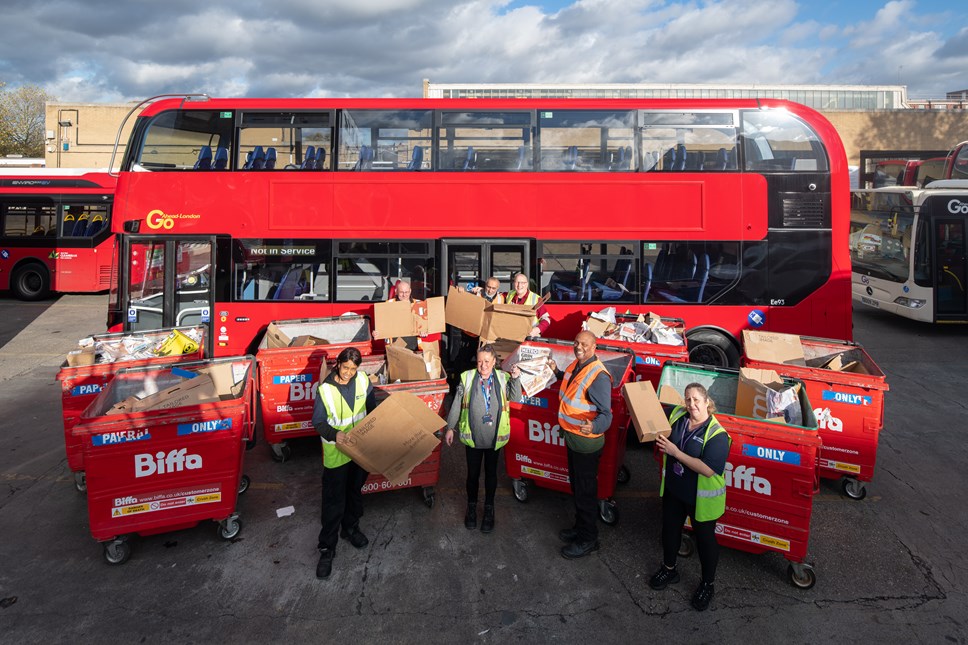 Sixfold increase in waste recycling at Go-Ahead's largest bus company
Recycling at Go-Ahead London increased from 5.5% to 33% within a year
Up to 60 tonnes of recyclable waste per month, the equivalent weight of five double decker buses
Project Go Eco, in conjunction with waste contractor Biffa, is to be rolled out to all Go-Ahead's UK bus operating companies
The transport company is on track to achieve its Group target of 60% of recycled rate by 2025
Go-Ahead's largest bus operating company has achieved a 28% increase in recycling since a new initiative, 'Project Go Eco' was introduced to separate recyclable materials from all general waste.
With over 2,300 buses across 17 depots, Go Ahead London sites accumulate up to 60 tonnes of recyclable material per month – including paper, cardboard, and other recyclables left behind by passengers – equivalent to the weight of five double decker buses. Due to its success, the project in conjunction with waste contractor Biffa is to be rolled out to all Go-Ahead's bus companies.
The project involved collaborating with colleagues to change behaviour towards waste management and working with Biffa to provide segregation bins for recyclable materials to increase recycling rates. In its first year, the project was trialled at Go-Ahead London, Go South Coast and Brighton & Hove Buses and Metrobus, helping the Group towards its target of 60% recycled rate by 2025.
Go-Ahead's Climate Change Strategy outlines the company's commitment to waste reduction by implementing new initiatives.
The Group's Climate Change Strategy also aims to achieve:
A Zero-emission bus fleet in the UK by 2035
A 25% water usage reduction by 2025
17% carbon monoxide emission (CO) reductions by 2025
Mark Anderson, Group Customer and Commercial Director, said: "Keeping buses clean and tidy is a huge undertaking at a company the size of The Go-Ahead Group. Every day, passengers leave behind thousands of newspapers, magazines, and bits of packaging, many of which can be recycled.
"We're actively looking for ways to improve sustainability and we're proud that we've been able to take a significant step forward in increasing the amount of waste we can recycle, supporting the circular economy. This not only helps the planet – it saves us money on waste disposal, too."
Contact Information
Go-Ahead Communications