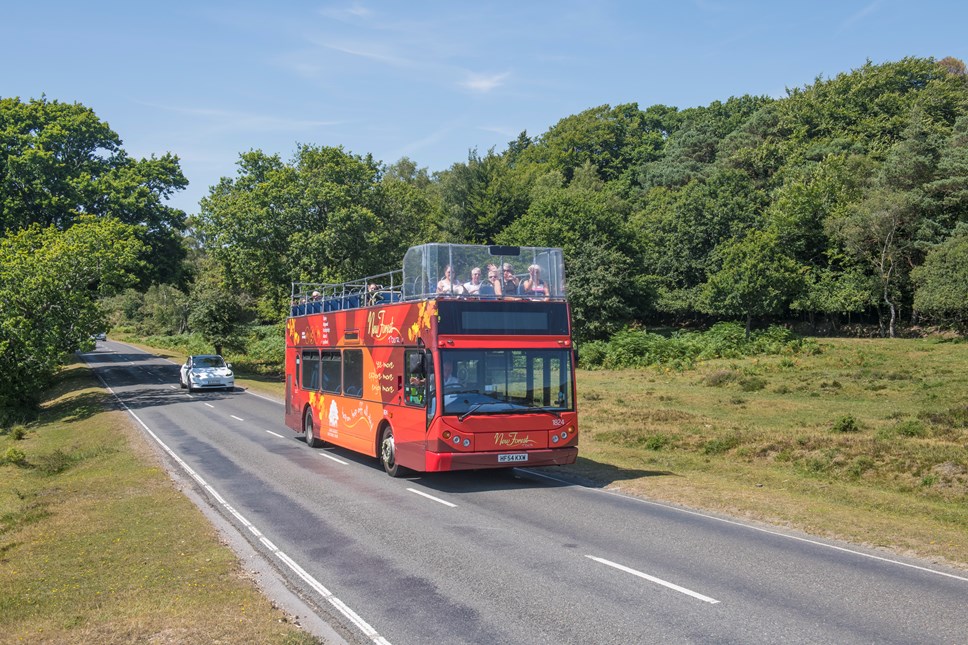 Open Top Cup: Go-Ahead routes vie for title of Britain's best open top bus route
Two scenic bus routes operated by The Go-Ahead Group are competing this weekend for the coveted title of Britain's favourite open top bus tour.
Toon Tours, a cultural journey around Newcastle and Gateshead, is pitted against the New Forest Tour – a rural excursion through the depths of a national park – in the final of the Open Top Cup, a competition organised to mark a resurgence in popularity of open top bus tours.
The competition, organised by Great Scenic Journeys, began earlier this year with 32 open top routes from all corners of the UK. Through several rounds of social media voting, these have been whittled down to a final two, which will be put to the public over the August Bank Holiday Weekend.
Toon Tours is run by Go North East. A hop-on, hop-off trip, it showcases the attractions, museums, nightlife and industrial heritage of the north-east. It includes a ride along the Newcastle Gateshead Quayside with views of the Tyne and Millennium bridges, plus visits to Newcastle United's ground St James' Park, to the Baltic Centre for Contemporary Art and to Ouseburn, Newcastle's cultural quarter.
Meanwhile, the New Forest Tour gives customers a glimpse of wandering ponies, pretty villages and magical landscapes, with a view a treetop level supplemented by audio commentary. The tour allows people to access walking trails and bike rides throughout the New Forest National Park.
Martin Dean, Go-Ahead's Managing Director, Regional Bus, said: "It's exciting that these two fabulous scenic services have made it to the final and we are proud that our efforts have been recognised. Open Top Buses are a trend right now, with people re-connecting with the great British outdoors and enjoying the pleasures of a trip overlooking great scenery. These two routes couldn't be more different in terms of scenery, however, share the same interest in offering great customer service. I wish them both the best of luck; they both deserve to win."
Giles Fearnley, Chair of Great Scenic Journeys, said: "It's been great to see the fans of these lovely scenic routes get behind their favourites and the response on social media and beyond has been fantastic, reflecting the surge of interest in open top bus routes everywhere this summer, which has been reflected in high patronage across the nation. Sustainable, high quality fun days out are what makes scenic bus journeys so popular and rightly so!"
Go-Ahead's regional bus companies run a variety of open top tours across Britain. Others include:
City Sightseeing Oxford, offering passengers a glimpse into Oxfords heritage, starting and the railway station, to Castle Mill Stream's hidden treasures and past the Sheldonian Theatre.
Clacton Breeze, allowing passengers to soak in the Essex coastline, all the way to the Clacton Pavilion and Pier.
Brighton City Sightseeing, with panoramic views of the shoreline, starting from the famous Brighton Palace Pier and ending at Brighton Station.
Ocean City Sights, a circular route from Plymouth City Centre around the historic Barbican and onto Plymouth Hoe and Plymouth Sound.
The Beachcomber, which goes along Scarborough's seafront and to many of the town's attractions such as the Rotunda Museum and Peaholms Park.
The Needles Breezer, from Yarmouth to Needles Battery and back via Freshwater Bay, Alum Bay, Totland - with views that will simply take your breath away.
Purbeck Breezer, from Bournemouth to Swanage, via the golden sands and clear waters of Sandbanks and Studland.
The final starts on Friday 25 August and finishes at the end of Bank Holiday Monday 28 August. You can submit your vote here.
Contact Information
Go-Ahead Communications