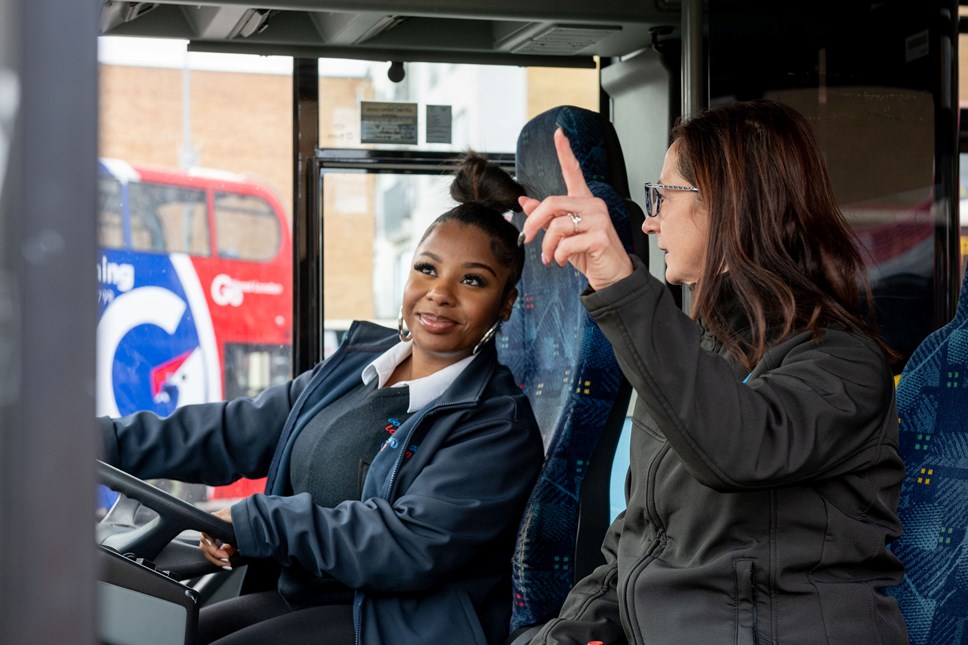 More women behind the wheel: female bus drivers up by 20% at Go-Ahead
Female-focused recruitment campaigns yield hundreds of applicants
Award-winning apprenticeship scheme enhances diversity
Higher pay rates and attractive sign-on packages enhance appeal of driving jobs
One in eight bus drivers across Go-Ahead's network are women
The number of women drivers at Go-Ahead's UK-wide network of bus companies has risen by 20% in a year following a wide range of efforts to attract more applicants.
Go-Ahead's bus companies have seen a significant increase in applications for driving jobs from women, following efforts to address the traditionally male dominated image of the industry.
Overall, female representation among Go-Ahead's 11,000 workforce of drivers has risen from 10% to 12% in 2022, a year in which the industry experienced a chronic shortage of labour, with bus driver vacancies at a high level.
Go-Ahead employs 15,600 people in the UK bus industry. The group is the largest bus operator in London, running a quarter of the capital's services on behalf of Transport for London. Go-Ahead owns eight regional bus companies outside London – including operations in Devon and Cornwall, Hampshire and Dorset, Brighton & Hove, Oxford, East Anglia, Manchester, East Yorkshire and Tyne & Wear.
Efforts to hire more women bus drivers have included:
Female-focused advertising including a campaign called "we're hiring people like you" by Go North West in Manchester and a "heroes of the road" campaign at East Yorkshire Buses
A program to build the foundations of culture change across the group which focuses on growing inclusion as a way we do things
A bus driver apprenticeship scheme pioneered at Go-Ahead London
Salaries of £26,000 to £40,000 per year depending on region and experience
Claire Mahoney, Head of Colleague Experience at The Go-Ahead Group, said:
"Driving a bus is a valuable and rewarding role, providing a vital everyday service up and down Britain.

We want our workforce to reflect the communities we serve, which means a better balance of men and women behind the wheel. I'm pleased that we're getting more women on board - we're moving in the right direction but there's much further to go yet."
To mark International Womens' Day today, Go-Ahead has released a video focusing on 'women returners' who have come back to the workforce after maternity leave, examining their experience as they re-adapt to working in an office or depot.
Case study
Georgia Allison, 25, a former supermarket worker, recently joined Go-Ahead's East Yorkshire Buses network in Hull and retrained as a bus driver.
"I became a bus driver because I love driving – I used to work at Asda, and one of my colleagues came over to East Yorkshire Buses and really enjoyed it, which was kind of the push I needed. I've worked in male-dominated industries before, but I don't really notice it much here – maybe I'm used to it! Sometimes you get passengers who get on the bus and say "Alright, fella" before they look at me, but then we just laugh it off.
"In terms of routes, at the moment I'm a local bus driver, but I'm heading over to do country routes soon, which I'm really excited about. My favourite route is the 121 from Hull to Bridlington - I love heading out to Bridlington.
"If you're looking to get into the bus industry, I think my advice would be that it's easier than you think. A lot of people think that it's a hard thing to get into, or that it's hard to drive a bus – the truth is that I prefer it to driving my car sometimes!"
Contact Information
Go-Ahead Communications
Notes to editors
For further information, please contact:

For further information, please contact:
Andrew Clark
andrew.clark@go-ahead.com
07932 677184
Anupa Devi
anupa.devi@go-ahead.com
07773 668485