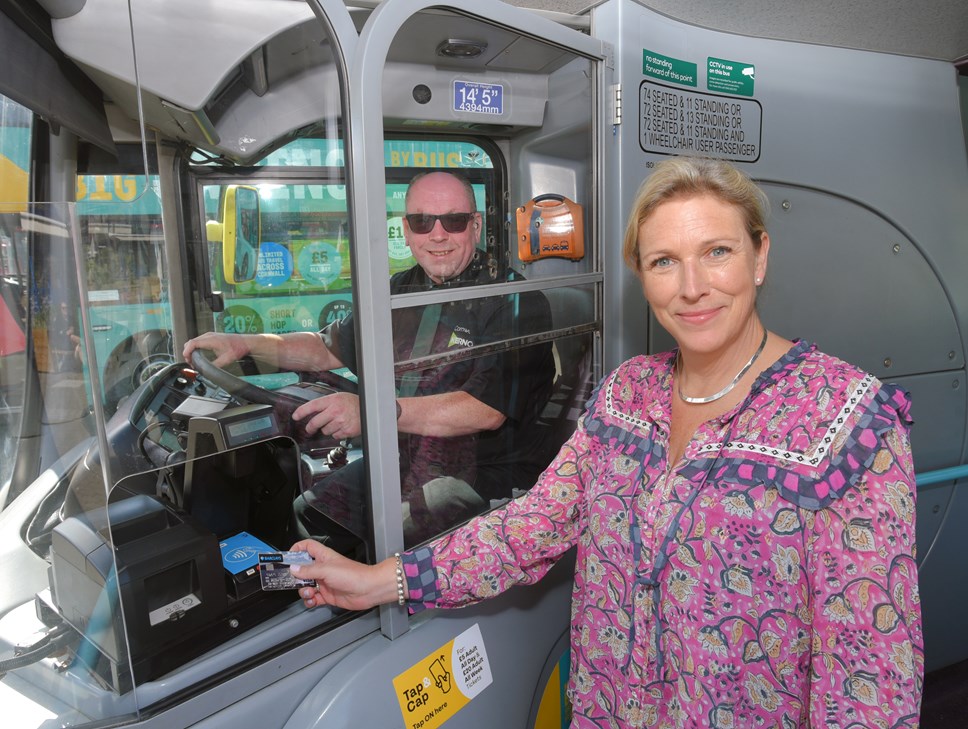 Ministerial launch for money-saving bus ticket scheme in Cornwall
The Go-Ahead Group was pleased to welcome Baroness Vere of Norbiton, the Minister for Buses, to launch a county-wide 'Tap & Cap' scheme today that will save money for bus customers in Cornwall.
The scheme implements a cap on daily and weekly fares. Passengers tap their card when they get on the bus, and tap again when they alight, and are charged the correct fare automatically. Regardless of the number of journeys taken in a day customers will not pay more than £5 and no more than £20 for a week.
Go-Ahead's Go Cornwall Bus is the largest bus operator in the county in terms of passenger numbers. The company is working closely with other bus companies, and with Transport for Cornwall, to deliver an integrated ticketing and travel network across the county.
The 'Tap & Cap' scheme builds on support that is already in place for customers across Cornwall and builds on Go-Ahead's investment in rural transport services in the county, which totals £25 million since 2020.
From April 2022, ticket prices on buses operating in Cornwall were cut by up to 40% under a Government-backed pilot scheme, "Make Big Savings By Bus". There is also an "any ticket, any bus" programme which made tickets interchangeable between Cornwall's bus companies.
These initiatives are consistent with goals under the Government's National Bus Strategy to encourage partnership working between operators and local authorities, and to promote the social, economic, and environmental benefits of bus usage.
Baroness Vere, Parliamentary Under Secretary of State at the Department for Transport, said: "At a time when many people are feeling the pinch, every potential saving matters. That is why we have provided more than £23 million to help look at ways to make local bus services more affordable.
"The brilliant "Tap & Cap" pilot will not only help reduce travel costs for people across Cornwall but will also help encourage greater use of more sustainable ways of transport, while helping create a truly integrated local bus network."
Richard Stevens, Managing Director, Go South West, said: "As the county's largest bus operator, operating over 100 routes and carrying 90,000 passengers per week – we're proud to be part of the latest initiative to save customers money and encourage people to switch from their cars to the bus - increasing the use of public transport. Together, as part of Transport for Cornwall we must continue to invest in change to make sure customers get the service they deserve.
Contact Information
Go-Ahead Communications