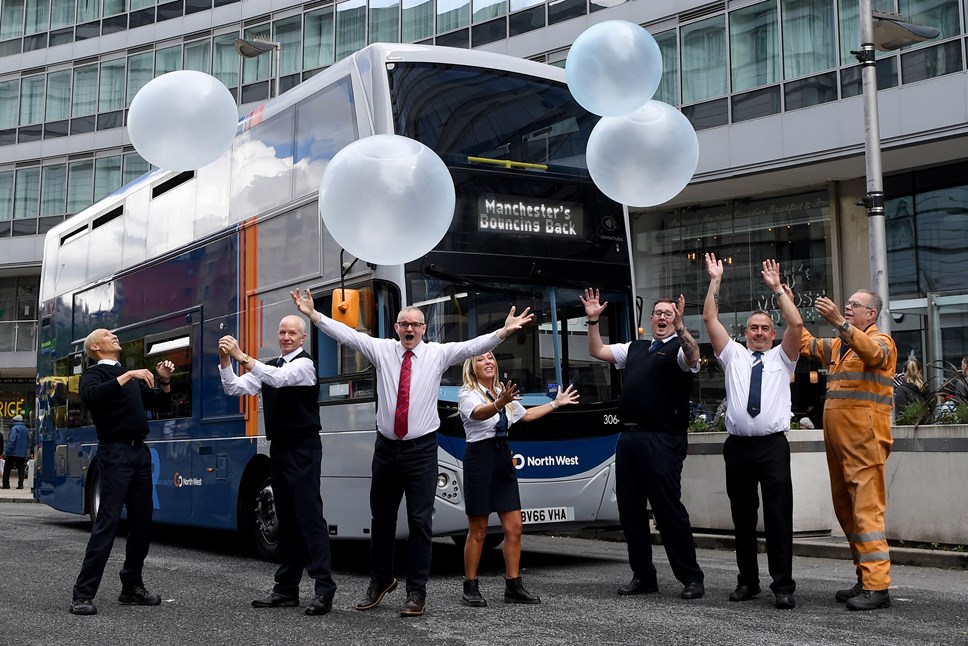 Manchester is bouncing back – buses reach pre-pandemic passenger levels
Go North West's buses are as busy as they were prior to COVID-19
Manchester operator is the first Go-Ahead company in the UK to reach pre-pandemic levels
Recovery boosted by high reliability, sufficient drivers and strong local economy
Plans in place to lay on more buses as demand grows further
Mancunians are leaving the pandemic behind and re-embracing public transport. Go North West's buses are as busy as they were before COVID-19 – and plans are in place to boost the number of buses on the network.
The company is now operating 9 out of every 10 buses that ran pre-Covid, and over the last few months it has seen a surge in customers getting on board; with passenger levels per bus now equalling 2019 figures.
Go North West is the first in The Go-Ahead Group's UK-wide network to hit this level of passenger recovery. Across the UK as a whole, bus usage is at about 85% of pre-pandemic levels. Across Go-Ahead's 11 regional bus companies, patronage varies between 80% and 100%, depending on demographics, the length and type of journeys and the strength of local economies.
The recovery has been supported by Bus Recovery Grant funding from the Department for Transport. Marketing initiatives to encourage customers back have included a £1 fare promotion for passengers travelling in the evenings, and the company has stepped up efforts to recruit more bus drivers to keep up with demand.
Nigel Featham, Managing Director, Go North West, said:
"We're delighted to see Manchester bounce back from the COVID-19 pandemic. The combination of a young population, a thriving local economy and a lively nightlife scene have all contributed to this recovery in customer levels. We are now looking to the future with plans to add additional resource to our network to ensure we meet the demand."
A recovery in public transport usage has accelerated over recent months as the rising cost of petrol has discouraged people from using their cars. Across Britain, the proportion of people taking a bus journey at least once a week has risen from 12% to 15% since March, as the cost of a tank of petrol has reached £100 in some parts of the country.
Summer weather, open air concerts, student events and eating out promotions have added to the steadily rebuilding commuter market to attract people back to Go North West's buses, which are based at the Queen's Road depot in north Manchester. Furthermore, Go North West has maintained high reliability, sufficient driver numbers and near full mileage through the pandemic.
Looking forward, Go-Ahead anticipates modal shift from car to bus across the UK as the Government's decarbonisation agenda, together with investment under the National Bus Strategy, takes effect.
Nigel Featham, added:
"We're grateful to the Government for Bus Recovery Grant funding which has been essential in enabling us to keep a comprehensive service running throughout COVID-19.

"The cost of living crisis has focused peoples' minds on the price of transport – and catching a bus is a far better value way of travelling than driving a car. With passengers coming back, demand is in good shape for the introduction of Transport for Greater Manchester's franchised model."
Contact Information
Andrew Clark
Corporate Affairs Director
The Go-Ahead Group
07932 677184