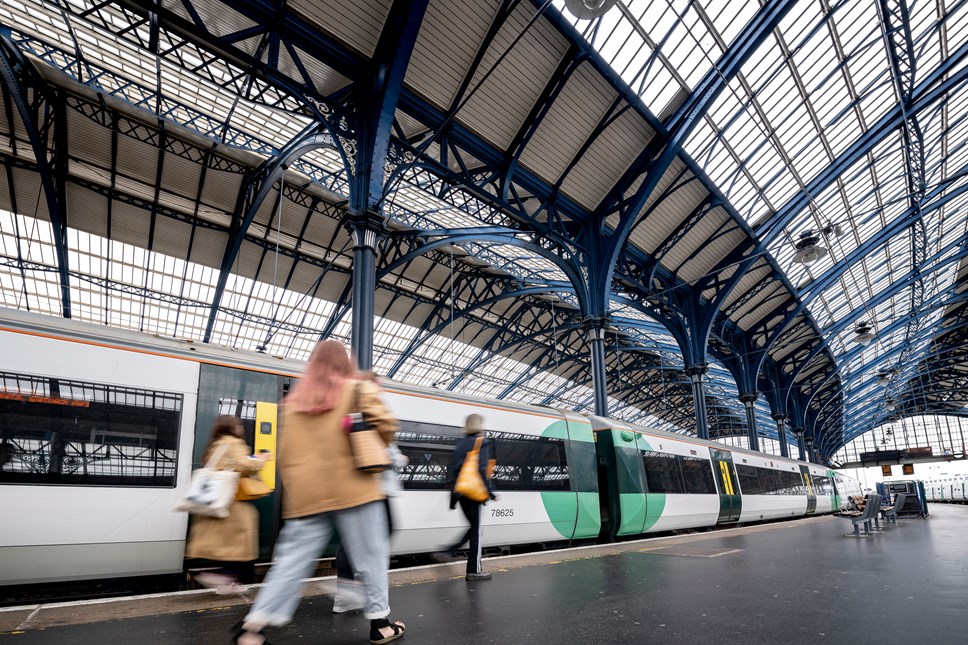 Half year results for the six months ended 30 December 2017
Business overview
Good first half performance; full year expectations increase, due to one-off rail benefits
Bus division results stable and in line with expectations – operating profit of £46.6m (H1'17: £46.4m)
Rail division results ahead of expectations for the half year – reported operating profit of £40.3m (H1'17: £26.6m), including one-off rail benefits
GTR/Southeastern – no change to full year expectations, first half outperformance due to phasing of contractual settlements
London Midland – strong trading performance until franchise end in December 2017 and £6.4m one-off profit on sale of assets
Mobilisation of Dublin bus contract and three German rail contracts is progressing well ahead of respective 2018 and 2019 start dates
Strong bid pipeline in our target international markets over next few years
Interim dividend maintained at 30.17p
Continued focus on making travel simpler by introducing new payment options and channels including flat fares, fare capping, and contactless payments
Applying our 30-years of experience to influence stakeholders and Government on the importance of bus in reducing congestion and improving air-quality, and the value private companies bring through the delivery of customer-focused public-sector transport services
Progress in all three Group strategic objectives: protect and grow the core, win new bus and rail contracts and develop for future transport needs
Financial summary
Trading
H1'18
£m


H1'17
£m

Increase/
(decrease)
£m

Increase/
(decrease)
%

Revenue

1,829.4

1,715.6

113.8

6.6

Operating profit

86.9

73.0

13.9

19.0

Operating profit margin

4.8%

4.3%

Profit before tax

79.7

67.0

12.7

19.0

Basic earnings per share (p)

115.5

107.6

7.9

7.3

Interim dividend per share (p)

30.17

30.17

–

–
Cashflow*
H1'18
£m

H1'17
£m

Increase/
(decrease)
£m

Cashflow generated from operations

167.1

114.9

52.2

Capital investment

56.8

93.8

(37.0)

Free cashflow

94.6

(13.0)

(107.6)

Adjusted net debt+

254.0

286.7

(32.7)

Adjusted net debt/EBITDA+

1.03x

1.35x
* Analysis of these figures is provided in the business and finance review
+ Adjusted net debt is net cash less restricted cash
David Brown, Group Chief Executive, commented:
"I'm pleased to report a good set of half year results. Our bus operations have performed as anticipated and our full year expectations for the division remain unchanged. In rail, GTR and Southeastern are trading in line with our expectations, while a better than expected trading performance towards the end of the London Midland franchise, combined with gains realised on the sale of the franchise's assets, have resulted in an increase in our full year expectations for the rail division.
"During the period we have delivered improvements to support our strategy and deliver benefits to passengers. In bus, we've introduced new technology, such as implementing contactless payments and piloting iBeacon apps, making it quicker and easier to pay for travel. Our regional bus customer satisfaction score of 90% remains the highest in the UK. In rail, while we acknowledge there is more to do, we've delivered improved reliability in GTR, leading to increased customer satisfaction, with the Thameslink route achieving 83% satisfaction – the highest in the network's history. On Southern services, 36% fewer cancellations occurred in the four weeks to 6 January 2018 than in the same period last year.
"Our international strategy has continued with the mobilisation of new contracts in German rail and Dublin bus and bidding for work in our target markets. We have also made progress in line with our strategy to prepare for the future of transport with some new initiatives, such as commercialising our retail and ticketing expertise and making a small investment in a German car-sharing business.
"Our established bus and rail businesses continue to demonstrate the value private companies bring through the delivery of customer-focused public-sector transport services. By innovating and adapting our operations, we believe we can protect and grow our core business and by building on our skills and experience in the UK we are able to develop new international businesses and prepare for the future of transport by creating new product offerings for a new set of customers. We are confident that our strategy will continue to deliver value to customers, colleagues, society and shareholders over the long-term."
ENDS