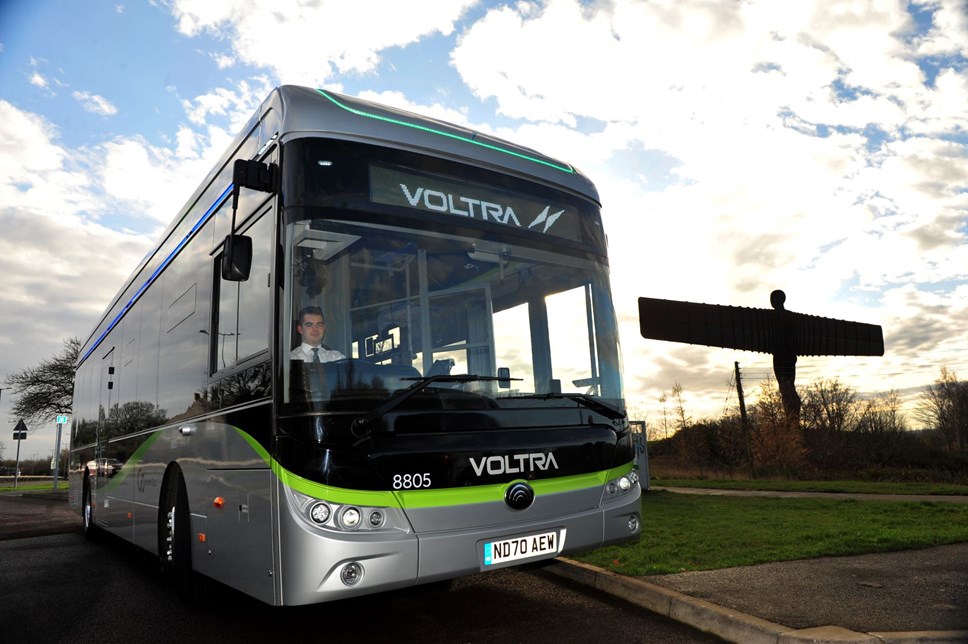 Half year results for the six months ended 1 January 2022
Encouraging underlying financial performance and passenger volume recovery as Go-Ahead emerges from a challenging period
Group operating profit (before exceptional items*) of £42.6m (H1'21: £56.4m restated). H1'21 included non-recurring items totalling £20.2m**
Excluding these items, like-for-like operating profit increased by £6.4m, up 17.7%
Regional Bus reverts to more commercial model as passenger numbers rebuild – currently above 80% of pre-pandemic levels
Resilient results from London & International Bus
UK Rail performance primarily reflects end of Southeastern contract
Management action reduces losses in International Rail
Statutory profit before tax of £50.1m (H1'21: £50.3m restated) includes a net exceptional credit of £13.0m, primarily relating to the expected
settlement of the financial penalty relating to London & South Eastern Railway and associated matters of concern
Strong balance sheet and significant liquidity: adjusted net debt of £217.3m (3 July 2021: £305.9m) and available cash and headroom on facilities
of £329.3m (3 July 2021: £240.3m). Adjusted net debt to EBITDA ratio of 1.21x (3 July 2021: 1.56x) providing significant capacity for investment
Launched new strategy "The Next Billion Journeys" and medium-term financial targets, including growth in Group operating profit to at least £150m
The Group will reinstate its pre-COVID-19 dividend policy of paying a dividend to shareholders equivalent to between 50% and 75% of underlying earnings per share from the 2022 full year and the board intends to recommend a dividend of not less than 50 pence per share in respect of the year ending 2 July 2022 in line with this policy
Trading in the second half of the year to date is robust and the Board now anticipates a full year result ahead of its previous expectations
*Before exceptional net credit of £13.0m (H1'21: £4.9m credit). Details are provided in note 5 to the financial statements
**H1'21 included £7.2m of CBSSG funding revenue and a £3.8m performance fee in GTR both relating to the 2020 financial year, and a £9.2m one-off timing benefit relating to Quality incentive
contract (QIC) recognition
Financial summary
Christian Schreyer, Group Chief Executive, commented:

"These results demonstrate an encouraging performance as Go-Ahead emerges from a challenging period. We're looking ahead with confidence, with
a new leadership team in place and a new strategy to improve the efficiency of our bus and rail companies.
"Our bus and rail companies are adapting to meet changing travel patterns as we emerge from the worst of the COVID-19 pandemic. We are
digitalising, decarbonising and reducing costs to ensure we deliver an outstanding performance for our customers while delivering attractive returns
for shareholders. We have a strong balance sheet, with low net debt, and are well placed to take advantage of expansion opportunities."
Chief Executive's review
I am pleased to report a robust set of results for our half year ended 1 January 2022. Go-Ahead has emerged from a challenging period with a new management team, a refreshed strategy, resilient operations and ambition for future growth in the business. Having joined the Group during the first half of the year, I have spent time meeting my colleagues across our bus and rail operations in the UK and internationally. As I look to the future and our plans for the business, I have full confidence in our local teams to take the Group forward as we execute on our new strategy, "The Next Billion Journeys", which I set out earlier this month following the conclusion of my business review.
For the public transport industry, the past two years have been the most difficult ever experienced, as the COVID-19 pandemic severely reduced travel. As we emerge from the pandemic, with the importance of our purpose reaffirmed, we, at Go-Ahead, understand the role we have to play in supporting the rebuilding of our communities, the recovery of our economies and the protection of our environment. We are all ready to embark upon the next phase for our business and our industry.
Financial performance
The Group delivered a robust financial performance in the first half of the year. Whilst Group operating profit before exceptional items fell 24.5% to £42.6m (H1'21: £56.4m restated), the prior year included £7.2m of Coronavirus Bus Service Support Grant (CBSSG) funding revenue and a £3.8m performance fee in GTR both relating to the 2020 financial year, and a £9.2m one-off timing benefit relating to Quality Incentive Contract (QIC) recognition. Excluding these items in the prior year, operating profit increased by £6.4m (17.7%).
During the period the Group recognised a total of £13.0m of exceptional credits (H1'21: £4.9m restated), mainly relating to London & South Eastern Railway as detailed below.
Our balance sheet remains strong and we have significant liquidity. As at the half year end, pre-IFRS16 adjusted net debt was £217.3m (3 July 2021: £299.9m). Adjusted net debt to EBITDA was 1.21x, below our target range of 1.5 to 2.5x, reflecting ongoing measures taken to mitigate the impact of COVID-19 including lower capital investment and suspension of dividends.
The underlying strength of our business and financial position supports the Board's intention to reinstate our pre-COVID-19 dividend policy of paying a dividend to shareholders equivalent to between 50% and 75% of underlying earnings per share from the 2022 full year, and to recommend a final dividend of not less than 50p in respect of the year ending 2 July 2022 in line with this policy, as set out earlier this month following the conclusion of my business review.
London & South Eastern Railway Ltd
In September 2021, the Department for Transport (DfT) took the decision that operation of Southeastern rail services would transfer to the Operator of Last Resort in October 2021 when the London & South Eastern Railway (LSER)'s contract ended. This was a consequence of disputes regarding the calculation of profit share payments and the treatment of certain overpayments made by the DfT to LSER over the course of the franchise agreements. Details of these matters were provided in our 2021 year end results, announced on 24 February 2022.
All outstanding matters relating to the identified matters of concern, except for the financial penalty, at LSER have since been settled with the DfT and the DfT has issued a £23.5m financial penalty notice due to breaches of historic franchise agreements. In our 2021 year end results, we recognised a provision of £30.0m for a potential penalty in respect of these matters, and we are therefore now recognising an exceptional credit of £6.5m in relation to the expected financial penalty and a further £12.3m credit in relation to settlement of other matters including affiliated trading. These exceptional credits have been offset by £6.3m of costs in relation to these matters.
As previously indicated, we have taken steps to enhance the Group's corporate governance arrangements, particularly in relation to the way in which complex rail operations are overseen.
Divisional performance
Regional Bus
Our Regional Bus businesses began the financial year with services being supported by the Government's Coronavirus Bus Service Support Grant (CBSSG), designed to enable a breakeven operating performance for bus companies while passenger volumes remained suppressed. As expected, we transitioned to another form of support for the industry in September 2021 – the Bus Recovery Grant (BRG) – supporting the shift for bus companies back towards a more commercial model. This funding has been confirmed until October 2022.
Passenger numbers gradually increased over the first half, reaching around 80% of pre-pandemic levels in November 2021 before the emergence of the Omicron variant of COVID-19 prompted the Government to issue 'work from home' guidance in December. This resulted in a temporary reduction in journey numbers which has since reversed, with passenger volumes currently above 80% of pre-pandemic levels.
In April 2022, the DfT announced £1.1 billion of funding allocations for local bus improvement schemes. This will enable a number of Go-Ahead's operating areas to benefit from improved bus priority and revenue support for lower fares – including the North East of England, Brighton & Hove, Greater Manchester and East Anglia. Meanwhile, Oxford has been successful in winning a grant to fund zero emission buses under the Government's ZEBRA Bus Funding scheme.
London & International bus
Our operations in London, Singapore and Ireland have delivered a strong underlying performance in the period. We continue to work closely with our transport authority clients to deliver reliable bus services in these major cities in which we operate.
After the half year, we were pleased to complete the £11.7m acquisition of Flexbuss in Sweden, a bus business delivering contracted bus services (including school transport, medical transfer and private hire buses) without direct exposure to changes in passenger demand. We are pleased to welcome our 600 new Flexbuss colleagues to the Go-Ahead family.
Go-Ahead London has been successful not only in retaining Transport for London routes but in winning additional tenders, and its bus driver apprenticeships scheme won an award for recruitment excellence in the 2021 National Apprenticeship Awards.
In April 2022, we completed a £13.5m purchase of land, adjacent to our River Road depot, to support growth in East London.
In Singapore, we are having positive discussions with the Land Transport Authority regarding an extension of our contract, and in Ireland our business is expanding with additional mileage through the BusConnects programme which requires the recruitment of 180 people, taking the total to nearly 800.
UK Rail
During the first half of the year, the Group's UK Rail contracts continued operating under emergency measures contracts that had been introduced in response to the COVID-19 pandemic. As mentioned above, the Southeastern franchise ended on
17 October 2021.
Following the half year end, we were pleased by the DfT's decision to award GTR a National Rail Contract (NRC), which commenced on 1 April 2022. The NRC, which will run until at least April 2025 with the potential for an extension of a further three years, is a management contract with extremely limited exposure to changes in passenger demand and no substantial cost risk to GTR. The maximum fee receivable by GTR is £31.7m per annum calculated, in accordance with the contract, on a pre-IFRS16 basis (equivalent to a pre-IFRS16 operating margin of around 1.85%), combining the fixed management fee and potential performance fees. The contract also allows for individual project fees to be earned by GTR on the delivery of additional initiatives, as directed by the DfT.
International Rail
In the first half of the year, we continued to deliver improvements in our rail contracts in Baden Wurttemberg, Germany, resulting in both stronger operational and financial performance. In addition to the improved operational performance, we also successfully settled the outstanding claim against the rolling stock provider relating to the late delivery of trains when the first contract in the region began in 2019.
The first of two German rail contracts in Bavaria commenced towards the end of the first half, with a strong operational start. In the first 100 days, more than 90% of our trains ran on time and our new fleet of 22 trains performed well. An onerous contract provision was taken against both contracts in this region in the 2020 financial year (the second of which is due to commence in December 2022) and the level of provision required was unchanged at the half year end.
Unlike our German rail contracts, which have limited exposure to changes in passenger demand, financial performance in our rail contract in Norway is impacted by passenger volumes. Throughout the first half and subsequently, passenger volumes remain materially suppressed. Government funding has remained in place, albeit at a reduced level, which mitigates the impact of lower passenger revenue whilst we continue to operate a full service. As previously disclosed, an onerous contract provision was taken in the prior year based on prudent assumptions about the performance of the contract over its remaining life. The level of provision had not materially changed at the half year end. Constructive discussions with the Norwegian Railway Directorate are ongoing and we are hopeful of reaching a satisfactory outcome.
The future of Go-Ahead
My review of the business found great strengths in Go-Ahead and reinforced my view that the Group will remain a leading presence in the dynamic public transport market into the future. I set out a new strategy – "The Next Billion Journeys" – that builds on these strengths, aimed at delivering profitable and sustainable growth in existing and new markets. Alongside the announcement of the strategy we set out new medium-term financial targets to grow annual Group revenue to around £4bn, up by around 30% on current continuing operations, and to increase annual Group operating profit to at least £150m.
The strategy focuses on three key priorities:
Performance improvement
Across the board, we will enhance the basics of our business by focusing on operational excellence. A new operating model is being introduced for all Go-Ahead's operating companies to increase transparency and raise the focus on financial performance. This will include drilling down on common cost drivers across bus and rail companies – costs of driving, maintenance, energy, fleet and overheads – to identify and address inefficiencies.
We are committed to turning around underperforming operating companies in our international markets and in the UK, and we will focus on operational improvements across all businesses through increased digitalisation and enhancement and standardisation of processes. This is expected to deliver cost savings in UK Bus of £40m in the medium term.
A key priority for the business is to reduce the breakeven point for zero emission buses to accelerate decarbonisation of our fleets. To facilitate this a Centre for Excellence will be established at Go-Ahead London, the UK's leading operator of electric buses, to leverage the Group's capabilities and support the business case for the transition to zero emission.
Grow organically and inorganically
Whilst we are reassured by the level of passenger recovery to date, as we emerge from the COVID-19 pandemic, the number of journeys taken on bus and rail services in all our markets remains lower than before the pandemic.
We firmly believe in the importance of facilitating a modal shift from private cars to mass transport to support challenging climate goals set by governments around the world, and also to enhance the lives and wellbeing of people across the towns and cities that we serve. In addition to working closely with clients and local authorities to stimulate passenger demand, we are implementing initiatives in our business to accelerate volume growth – including leveraging data to analyse new travel patterns and to tailor routes, schedules and ticketing to match passenger needs. We also realise that for some people, returning to public settings – including transport – may feel daunting after an extended period away during the pandemic. In our local markets, we are introducing initiatives to support these customers and rebuild their confidence in using public transport.
Within existing geographies, Go-Ahead has identified opportunities to grow its UK Regional Bus business, particularly in the north of England. In addition to maintaining its market leading position in the London bus market, the Group will seek opportunities to build business-to-business revenue in the Capital. In UK Rail, following the award of a National Rail Contract to GTR in March 2022, Go-Ahead will play a constructive role in supporting the creation of Great British Railway and in shaping future Passenger Service Contracts to deliver the best possible rail services for customers and an attractive model for private operators.
Internationally, Go-Ahead will seek to replicate our proven business models in franchised and contracted bus services as we have done successfully in Dublin and Singapore. We have identified three markets as development priorities for the Group – France, Australia and Sweden – and will also give consideration to opportunities in other selected markets. We are committed to delivering value-adding growth and will mitigate execution risk when entering new markets by working with experienced local partners.
As well as seeking to grow through contract wins, the Group will consider selected acquisitions to support our growth ambitions.
Progress new opportunities leveraging existing capabilities and resources
Go-Ahead has deep experience and expertise across its business, and extensive resources that can be utilised to progress new opportunities in adjacent markets. We expect to deliver growth in the provision of business-to-business transport services, such as airport transport services and rail replacement buses, and will also explore opportunities in new modes of transport, including metro and light rail. We also see opportunities for new services further along the mobility value chain, such as zero emission services, Mobility as a Service (MaaS) operation and property utilisation.
Our people
Go-Ahead has a renewed purpose – "moving you and the next generation towards a stronger and healthier planet" – underpinned by strong values. These values will guide our 27,000 colleagues globally as we work collectively in building sustainable transport services and a stronger Group.
We know that we can only achieve our ambitions for Go-Ahead by supporting and investing in our people. Doing the right thing by our employees benefits everyone – providing fulfilling careers, delivering the best possible service for our customers and supporting the sustainability of our business. We also know that having a diverse workforce and inclusive workplaces brings benefits to our business, our people and customers, and the communities we serve. A lot of great work at Go-Ahead has already delivered progress on this journey but there is more for us to do, and our new strategy incorporates initiatives to support this.
Conclusion
Today, in the final quarter of our 2022 financial year, I am reassured by the resilient performance across our London & International Bus business and the level of passenger volume recovery in our core Regional Bus business as well as our ongoing plans and constructive discussions with transport authority clients in International Rail. As we move forward, with a new GTR contract and a strong pipeline of opportunities in our target markets, I am confident about the growth prospects for the Group.
Following a very challenging couple of years for bus and rail operators, I believe that we are entering a significant phase for public transport which will see the importance of our vital services grow further still as we play a key role in the sustainable evolution of travel.
Contact Information
Go-Ahead Communications
Notes to editors
A full results statement, plus presentation, can be found at www.go-ahead.com/investors
For further information, please contact:
The Go-Ahead Group
Media – Andrew Clark, Go-Ahead 07977 343 846
Investor Relations – Holly Gillis, Citigate Dewe Rogerson 07940 797 560