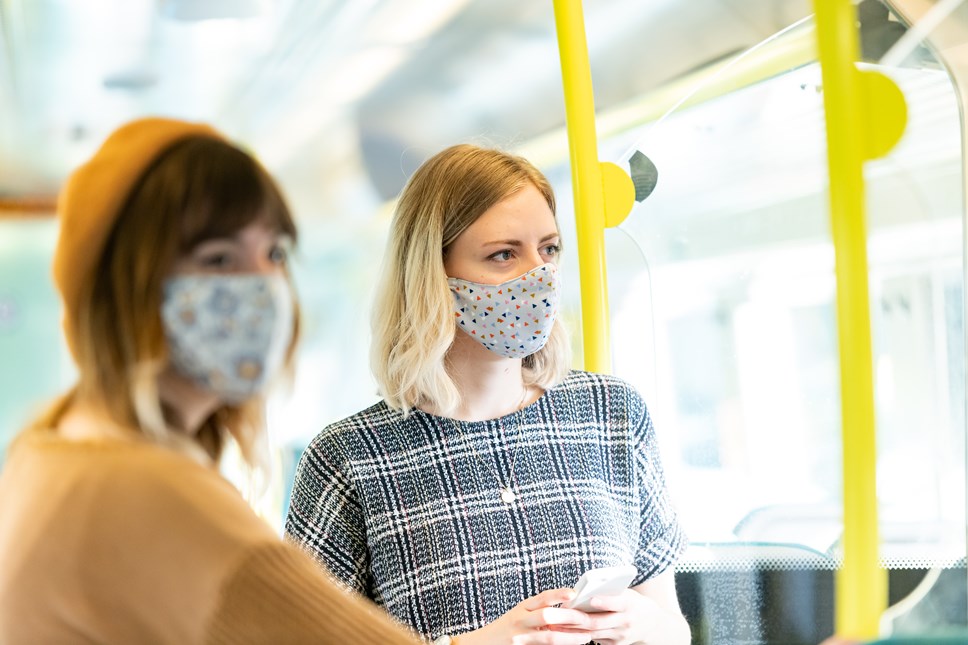 Go-Ahead Trading update for the period from 28 June 2020 to 2 December 2020
The Go-Ahead Group plc today announces its trading update for the period from 28 June 2020 to 2 December 2020. The next scheduled update is the Group's half year results for the six months ending 2 January 2021 which will be announced on 11 March 2021.
Clear priorities - during the COVID-19 crisis, we have three priorities: to safeguard the health and wellbeing of our colleagues and customers; to play our role in society in challenging times; and to protect our business
Robust trading performance:
Regional bus services continue to be supported by Government
London & International bus is trading well. Our expectations for the full year are now ahead of previous guidance reflecting a one-off benefit due to the timing of recognition of Quality Incentive Contract income
Rail expectations for the year are unchanged. Operational performance in Germany remains stable
Strong fundamentals:
90 per cent of Group revenues are secured through contracts with no revenue risk from changes in passenger demand
Operations remain cash generative and the Group is expected to have around £200m available in unutilised facilities and cash at the half year end
As previously guided, adjusted net debt to EBITDA is expected to remain well below our 3.5 times bank covenant, peaking towards the upper end of our 1.5 to 2.5 times target range at the half year end

Go-Ahead Group Chief Executive, David Brown, said:
"As set out by the Prime Minister in his ten-point green plan, public transport is vital to achieving the country's net zero ambitions while supporting economic growth. This, combined with public transport's ability to support the health and wellbeing agenda, underpins my confidence in the prospects of the Group.

"As a private operator of public transport, we have the experience and skills to help communities thrive by connecting people to jobs, education, shops, family and leisure facilities.

"Prior to the second lockdown, we were pleased to see passenger journeys reaching nearly 60 per cent of pre-crisis levels in some regions, showing people's desire to travel once restrictions are eased. With enhanced vehicle cleaning, the provision of hand sanitiser and mandatory use of face coverings, passengers can travel confidently on our services that are safe and clean.

"I am immensely proud of the commitment of our 30,000 people and all they have achieved during such a difficult time."
The full release is attached to the email.
Contact Information
Go-Ahead Communications
Notes to editors
ENDS
A call for analysts and investors will be held at 8.30am. Please contact investorrelations@go-ahead.com for details.
For further information, please contact:
| | |
| --- | --- |
| Holly Gillis, Head of Investor Relations | 07766 305 594 |
| Press Office | 07896 968 971 |
GO-AHEAD
Go-Ahead is one of the leading UK public transport operator companies. Our purpose is to be the local partner taking care of journeys that enhance the lives and wellbeing of our communities across the world. Employing around 30,000 people across our businesses, typically over 1.2 billion passenger journeys are undertaken on our rail and bus services every year. In addition to the travelling public, our customers include governments and local authorities. We are committed to contributing to tackling climate change, improving air quality and reducing social isolation, and aim to run a zero emission bus fleet by 2035.
BUS
Go-Ahead is one of the UK's largest bus operators. With a fleet of nearly 6,000 buses, we carry over two million passengers every day. We have a strong presence in London, with around 24 per cent market share, where we provide regulated services for Transport for London. Outside London, we principally serve high-density commuter markets, including the North East, Greater Manchester, East Yorkshire, East Anglia, South East and South West England. Internationally, we operate a bus contract in Singapore and two bus contracts in Ireland.
RAIL
The rail division operates two franchises in the UK, three contracts in Germany and one in Norway. In the UK, Southeastern and GTR (Govia Thameslink Railway) operate through our 65 per cent owned subsidiary, Govia, which is 35 per cent owned by Keolis. It is the largest rail operation in the UK, responsible for around 30 per cent of all UK passenger rail journeys through its rail franchises. In Germany and Norway, our contracts are run exclusively by Go-Ahead.