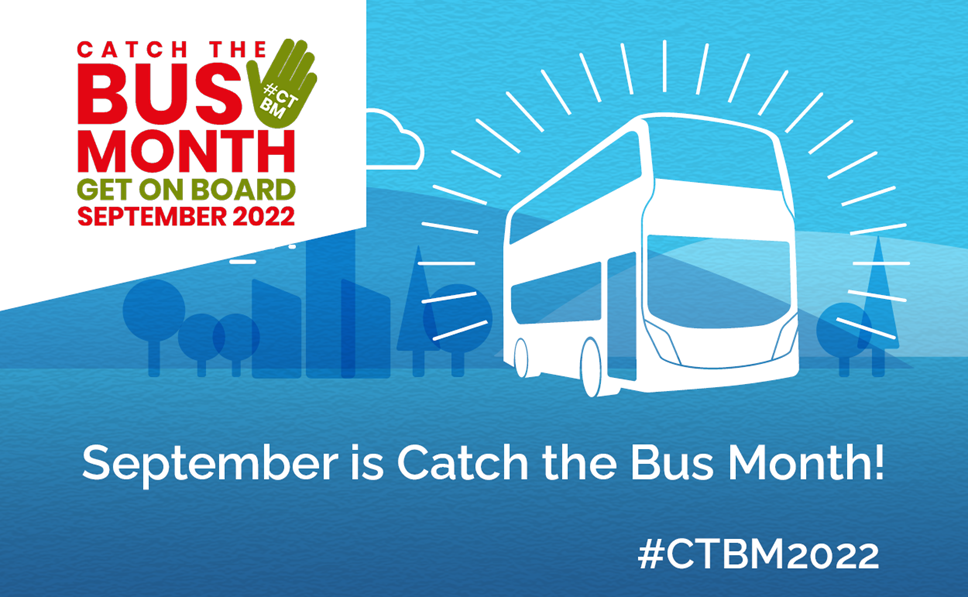 Go-Ahead supports Catch the Bus Month by encouraging more people to adopt bus travel
Go-Ahead supports Bus Users UK, Catch the Bus Month, a charity that campaigns for inclusive and accessible transport
Regional bus companies undertake community initiatives to mark Catch the Bus Month
Go-Ahead sees significant growth in passenger numbers post COVID-19
Go-Ahead is showing its support for the Bus Users UK's, 'Catch the Bus Month' campaign throughout September. The campaign aims to encourage people to take the bus and promotes the benefits such as accessibility, affordability, and sustainability.
The 'Catch the Bus Month' campaign is in line with Go-Ahead's targets set out in 'The Next Billion Journey's' business strategy to attract more people to bus travel post Covid-19 and the Group's commitment for more sustainable travel.
During Catch the Bus Month 2022, Go-Ahead bus companies are specifically highlighting the benefits of bus travel.
In East Anglia, in person events in Norwich, Sudbury, Clacton and Colchester will promote car free days with local MPs in attendance to show their support. Go East Anglia, Konectbus, will also offer free travel across Norwich on 25 September (coinciding with World Car Free Day) to encourage people to travel by bus.
Brighton and Hove Buses will be promoting its digital campaign 'My bus is driving change' to showcase all the different people who catch the bus including messaging around accessibility, zero emission benefits and targeting loneliness.
Meanwhile, Go South West, Plymouth City Bus and Go Cornwall, is encouraging bus travel amongst families and older people by offering them concessions. People at the Devon Business Show will receive a free bus ticket to encourage them to try the bus.
Go-Ahead has seen a significant recovery in passenger numbers post COVID-19. Go North West is the first in The Go-Ahead Group's UK-wide network to hit pre-pandemic levels of passenger recovery. Across the UK, bus usage is at about 85% of pre-pandemic levels.
Mark Anderson, Go-Ahead's Customer and Commercial Director, said: "Catch the Bus Month is a great campaign to be involved in. We've been working hard to bring passengers back to our buses – including data analysis to understand new travel patterns and to tailor routes, schedules, and ticketing to match passenger needs, plus marketing initiatives to rebuild confidence in public transport.
"The Group is working closely with clients and local authorities to stimulate further modal shift from private cars to public transport, supporting the achievement of local and national climate change targets."
Buses also reduce social isolation and improve health and well being. Claire Walters, Chief Executive of Bus Users UK the charity behind Catch the Bus Month said: "Buses make a huge contribution to all our lives socially, economically, and environmentally. They are also a lifeline for communities providing access to education, work, healthcare, shops, and leisure. We want to see more people get on board this September to protect these vital services for future generations."
Contact Information
Go-Ahead Communications