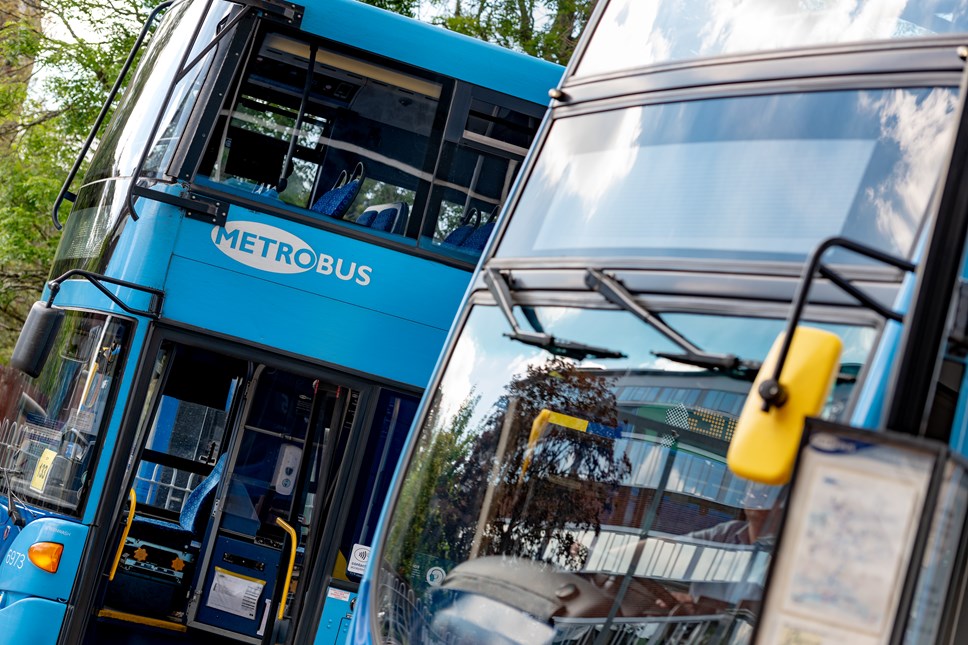 Go-Ahead selects Air Products as partner for pioneering hydrogen bus fleet
Air Products to supply liquid hydrogen to fuel Metrobus' new hydrogen vehicles
Fleet of 20 buses to be deployed in the Crawley, Horley and Gatwick Airport area
The Go-Ahead Group has agreed a 15-year hydrogen supply deal with Air Products, a world leading industrial gas company, to power a fleet of fuel cell buses for deployment in the Gatwick Airport, Crawley and Horley area.
The single-decker GB Kite Hydroliner buses, manufactured by Wrightbus in Northern Ireland, will be delivered in June 2022. They will be the first hydrogen powered vehicles in Go-Ahead's fleet of more than 6,000 buses.
It is the intention that the hydrogen to power the buses will meet, or exceed, UK government standards on sustainable fuel for public transport. Hydrogen will be stored at the Metrobus Crawley depot in liquid form, before being converted to gas held in tanks on the roof of vehicles.
The single-decker fuel cell buses are funded in part with money from UK Government and European Union zero-emission bus schemes, plus investment from Gatwick Airport. A further possible order of 34 buses could bring the fleet to 54 vehicles, which would be the largest local fleet of hydrogen buses deployed in Europe to date.
As well as having zero carbon emissions, hydrogen buses have long range capabilities and can be refuelled quickly in depots.
Go-Ahead is already the UK's largest operator of zero-emission electric buses, with a fleet of nearly 300 nationwide, but this is the group's first venture into hydrogen. Go-Ahead has set a target of transitioning to a zero-emission bus fleet across the UK by 2035.
Christian Schreyer, Group Chief Executive, The Go-Ahead Group, said: "This is our first hydrogen supply deal, and it represents a milestone in our plans to transition Go-Ahead's entire fleet of buses to zero emission fuel.
"We're delighted to be working with Air Products and with Wrightbus. This is an example of what can be achieved through a mixture of public and private funding, and of co-operation between different environmentally responsible partners."
Manish Patel, Air Products UK Hydrogen for Mobility Director, said: "We're pleased to be partnering with Go-Ahead and Metrobus on the largest hydrogen supply contract for buses in the UK to date. It's a huge milestone in the UK's hydrogen for mobility sector.
"At Air Products, we've been involved in more than 13 million hydrogen vehicle fills across the world and have extensive experience over the last 60 years in delivering reliable end-to-end hydrogen solutions, from production to distribution and fuelling stations. Our innovative and unique solutions will provide Metrobus the infrastructure to not only fuel their initial fleet but allow for rapid expansion without additional footprint or cost."
Ed Wills, Managing Director, Brighton & Hove and Metrobus, said: "We went through a rigorous process before selecting Air Products as our supplier. We were impressed not only with their experience in this field but with the assurance that they would be ready to begin supplying us at volume from day one."
About Go-Ahead
Go-Ahead is a leading public transport operator, connecting communities through bus and rail services. Our purpose is to be the local partner taking care of journeys that enhance the lives and wellbeing of our communities across the world.
We employ more than 27,000 people across our bus and rail businesses in the UK, Singapore, Ireland, Norway and Germany. In addition to the travelling public, our customers include governments and local authorities. We are committed to tackling climate change, poor air quality and social isolation.
Bus
Go-Ahead is one of the UK's largest bus operators. We run a fleet of more than 6,000 buses across England and run a quarter of London's buses for Transport for London. Outside London, we serve high-density commuter markets in the North East, Greater Manchester, East Yorkshire, Oxfordshire, East Anglia, the South East and the South West of England. We also operate a bus contract in Singapore and two bus contracts in Ireland.
Rail
We operate rail franchises in the UK, Germany and Norway. In the UK, we run the country's largest passenger franchise, GTR (Southern, Gatwick Express, Great Northern and Thameslink). This is managed through our 65 per cent owned subsidiary Govia, which is 35 per cent owned by Keolis. In Germany and Norway, our contracts are run exclusively by Go-Ahead.
About Air Products
Air Products is a world-leading industrial gases company in operation for 80 years. Focused on serving energy, environment and emerging markets, the Company provides essential industrial gases, related equipment and applications expertise to customers in dozens of industries, including refining, chemical, metals, electronics, manufacturing, and food and beverage. Air Products is also the global leader in the supply of liquefied natural gas process technology and equipment. The Company develops, engineers, builds, owns and operates some of the world's largest industrial gas projects, including: gasification projects that sustainably convert abundant natural resources into syngas for the production of high-value power, fuels and chemicals; carbon capture projects; and world-scale carbon-free hydrogen projects supporting global transportation and the energy transition.
Contact Information
Go-Ahead Communications