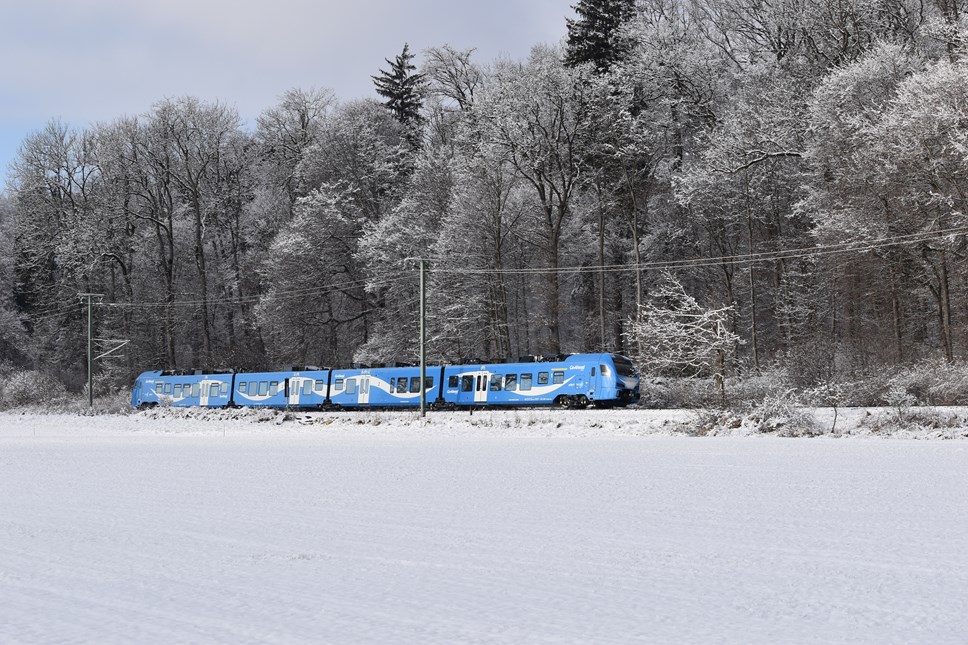 Go-Ahead launches first Bavarian services with new electric trains
Go-Ahead Bayern begins services on route from Munich via Memmingen to Lindau on Sunday
Latest mobilisation for Go-Ahead in Germany, having began operating in Baden-Württemberg in 2019
Fleet of brand new trains introduced on recently electrified route, providing customers with faster and quieter journeys
UK based international transport company The Go-Ahead Group has launched its first services in Bavaria, Germany.
Early today the first train left at 0020 from Munich Central Station on its journey to Buchloe, at the start of a 12 year contract involving about 2.7m train kilometers each year.
The service is being provided by a brand new fleet of 22 Stadler electric trains. Journeys will be faster, quieter and more environmentally friendly, with the new fleet taking advantage of the route being recently electrified. The modern trains with 216 seats each feature air conditioning, at least 20 bicycle racks per train, and plenty of storage space for luggage. 61 drivers and 43 conductors have been recruited for the service.
The timetable has been revamped with the introduction of a new express service between Memmingen and Munich, enabling the 70 mile route to be covered in little more than an hour. Many stations have also been upgraded by the infrastructure provider to allow step-free boarding and improved access for people with wheelchairs or pushchairs.
Christian Schreyer, Go-Ahead Group CEO said:
"We are delighted to be operating our first services on behalf of the state of Bavaria. Our team has been working hard to deliver a completely new fleet, new maintenance arrangements and recruit a team of drivers and conductors to provide the service. We have been working closely with our client bodies Bavarian Railway Company (BEG) and Department of Transport Baden-Württemberg, and other partners to enable a successful start to operations, and we look forward to continuing to improve services for our new customers".
Bastian Goßner, Go-Ahead Germany MD Commercial and Customer said:
"Passengers can look forward to brand new vehicles with plenty of space for their luggage and a quiet and environmentally friendly electric journey. In addition, our trains can go faster and also accelerate better than the diesel trains previously used there, so we can offer our passengers shorter journey times."
Go-Ahead's operations in Bavaria will further expand in December 2022 when the company takes over the regional service on the high frequency Munich – Augsburg – Ulm, Augsburg – Donauwörth –– Würzburg and Donauwörth – Aalen lines.
For further information please contact:
Andrew Clark: 07977 343846
Contact Information
Go-Ahead Communications