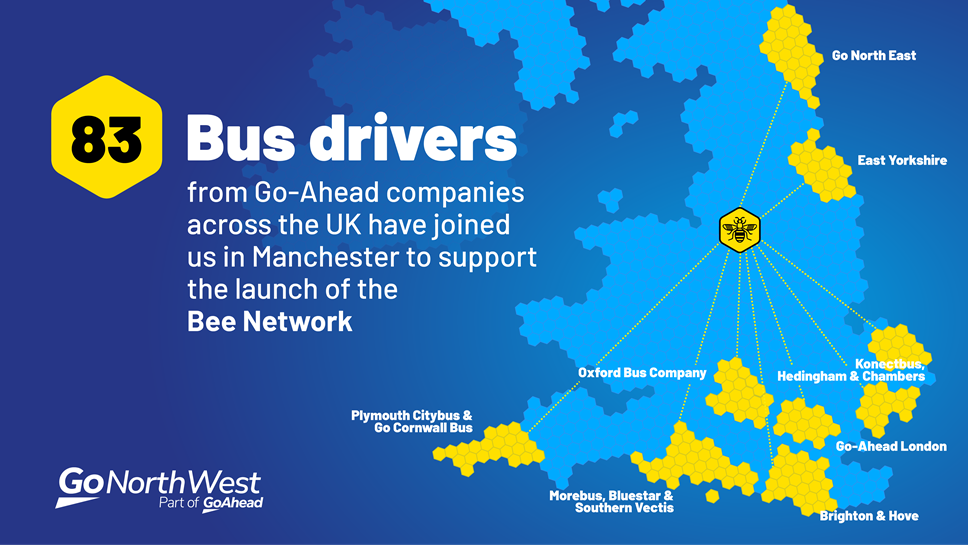 Go-Ahead invests £40 million in drivers and buses for Bee Network launch
Go-Ahead bus drivers travel from across the UK to support launch
102 new buses form part of Bee Network fleet in Bolton and Wigan
Bee Network buses will begin carrying passengers at 5am on Sunday
Experienced bus drivers have travelled from across Britain to take part in Sunday's Bee Network bus launch in Manchester, with vehicles set to be driven by colleagues from as far afield as Cornwall, Brighton, London and East Yorkshire.
Yellow-branded Bee Network buses will begin on Sunday morning on 50 bus routes in and around Bolton and Wigan – the first stage in what will eventually be a fully integrated public transport network across Greater Manchester.
Go North West has borrowed 85 drivers from its sister Go-Ahead bus companies across Britain for a three-month period to ensure the Bee Network launch goes smoothly, while new driver are being trained. All have volunteered for the secondment and have undergone extensive route training, an induction to Manchester and familiarisation with vehicles.
Go-Ahead and Transport for Greater Manchester have invested in 102 new buses, of which 50 are zero-emission electric vehicles. These will form part of an overall fleet of 320 vehicles to be mobilised on Sunday, branded in yellow Bee Network colours. The new vehicles will be fully accessible, with passenger information screens, space for two wheelchairs plus CCTV and two-way radios for security.
Sunday's launch will be the culmination of ten months' preparation and will involve more than 1,000 people – working out of two depots, operating 50 routes. The first bus out will leave Bolton's bus depot at 5.07am.
Of a total of 550 drivers involved in Bolton and Wigan Bee Network operations, 70 are new recruits hired as part of Go North West's "Elite Bus Driver Academy" training program and 85 are secondees from across the UK.
Go-Ahead companies which have loaned drivers include:
Go Cornwall Bus
Plymouth Citybus
Bluestar (Southampton)
Morebus (Bournemouth)
Southern Vectis (Isle of Wight)
Oxford Bus Company
Go-Ahead London
Brighton & Hove Buses and Metrobus
East Yorkshire Buses
Konectbus (Norfolk)
Hedingham & Chambers (Essex)
Go North East (Tyne & Wear)
Nigel Featham, Managing Director, Go North West, said:
"This is a big day for transport in Manchester and we're delighted to have colleagues from across the UK helping us. So if you get on a Bee Network bus this weekend and hear an unfamiliar accent behind the wheel, don't be surprised.

"These drivers will tide us over while we train hundreds of home-grown new drivers in Manchester who are going through our bus driver academy. Everyone behind the wheel of a bus will be extensively route trained and familiar with tickets, vehicles and customer service.

"We're proud to be running 102 brand new buses, and we look forward to delivering exceptional public transport for Manchester."
Contact Information
Go-Ahead Communications