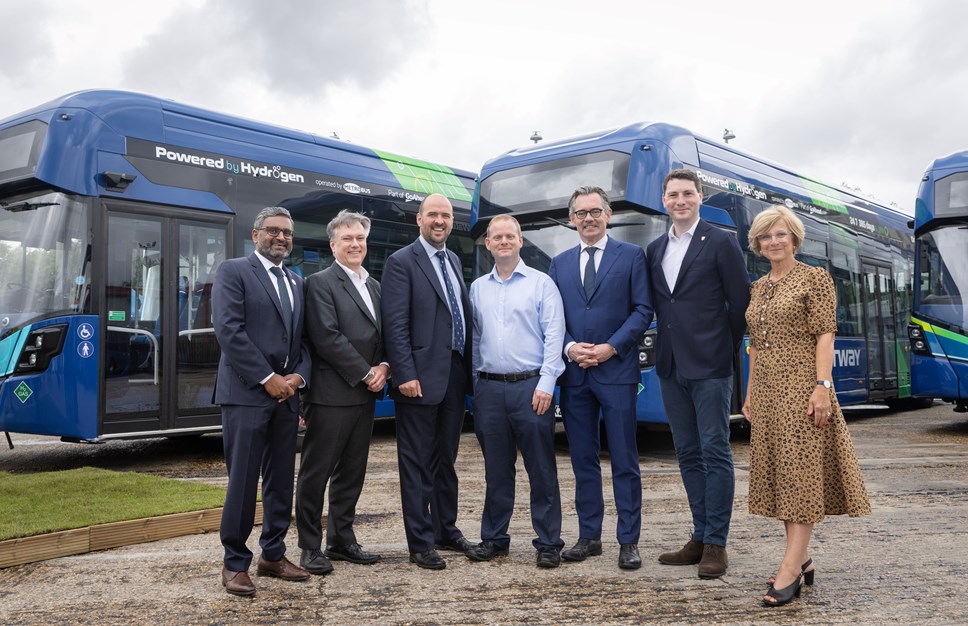 £30 million investment in pioneering hydrogen bus fleet and refuelling station launched for services in and around Gatwick Airport
Fleet of 20 buses from Wrightbus to be deployed in the Crawley, Horley and Gatwick Airport area by The Go-Ahead Group.
A further 34 vehicles will join the fleet over the next 18 months to create one of Britain's largest hydrogen bus fleets.
The station is the first liquid hydrogen refuelling station for buses in Europe.
Launch event on 29 June attended by the Minister for Roads and Local Transport and stakeholders from across the region.
The Go-Ahead Group, one of Britain's leading bus and rail operators, has today launched a pioneering fleet of hydrogen fuel cell buses to carry passengers on routes in the Gatwick Airport, Crawley and Horley area.
Once fully delivered, the fleet will comprise 54 vehicles and will be one of the biggest hydrogen bus fleets in Britain. It will be served by a liquid hydrogen refuelling station – the largest of its kind in Europe.
The zero emission buses are able to cover long ranges and carry heavy loads, making them ideal for local routes around Gatwick that are intensively used - operating 24 hours a day, 365 days a year.
The single-decker GB Kite Hydroliner buses, manufactured by Wrightbus, are the first hydrogen powered vehicles in Go-Ahead's fleet of more than 6,000 buses. Hydrogen will be stored at the Metrobus Crawley depot in liquid form, before being converted to gas held in tanks on the roof of vehicles.
The liquid hydrogen refuelling station in Crawley is owned and operated by Air Products, a world leading industrial gas company. Once it reaches full capacity it will be the largest of its kind in Europe and will be capable of providing the equivalent of fuel for over 100 buses per day.
The Crawley bus depot, at Wheatstone Close played host to a number of local stakeholders and politicians in a presentation and ceremony to launch the new hydrogen buses. Richard Holden, minister for roads and local transport, was also in attendance, speaking at the event and touring the refuelling facilities.
Richard Holden MP, Minister for Roads and Local Transport said "Communities and commuters across the country know how important buses are – and these UK-made hydrogen buses could revolutionise transport for millions, bringing quieter and smoother journeys. It is great to see these 20 new hydrogen buses on our roads, one of the largest fleets in the UK, backed by over £4.3m of funding from our Ultra-Low Emission Bus scheme. With nearly 3,400 Zero Emission Buses funded across the UK since February 2020, this latest fleet puts us well on the way to meeting our target of 4,000 ZEBs."
Ed Wills, Managing Director for Brighton & Hove and Metrobus said "I am delighted to introduce 20 new hydrogen buses to our Metrobus fleet and a liquid hydrogen refuelling station, which, once fully commissioned will be the largest of its kind in Europe. This launch marks a historic moment for our business and demonstrates our commitment to reducing emissions in the local community where the only thing that comes out of the bus tailpipe is water. A further 34 buses will join our fleet over the next 18 months through our partnership working with Surrey County Council.
Christian Schreyer, Group Chief Executive, The Go-Ahead Group, commented: "These fantastic buses and the innovative refuelling depot demonstrate Go-Ahead's commitment to investing in a net zero future for transport. We're already the leading operator of electric buses in Britain and we believe hydrogen is a further piece in the jigsaw of decarbonising public transport – to the benefit of the environment and local communities."
Manish Patel, Air Products Hydrogen for Mobility Director UK, commented: "We are proud to be part of this exciting project, where we intend to deliver green hydrogen produced in Immingham from imported renewable energy sources such as the NEOM Green Hydrogen project, where there's an abundance of sun and wind. The project is an excellent example of companies collaborating and pioneering in the energy transition space. Together, we are making the decarbonisation of public transport a reality; our liquid hydrogen-fed refuelling station will be able to reliably serve the depot's full fleet."
Stewart Wingate, Chief Executive, London Gatwick Airport, commented: "Sustainability is key to everything we do and we're proud to have contributed financially to these 20 zero emission Hydrogen busses. The route this new fleet serves is vital for passengers and airport staff travelling to and from work, including late at night and early morning.
"We want half of our passengers and staff to get to the airport using sustainable transport, so we're investing in our public transport facilities. In addition to this zero-emission bus fleet, we have also upgraded a vital bus interchange with accessible lifts and our redeveloped train station will open soon. We also hope to see further advances in the use of hydrogen at the airport in the years ahead ".
Jean-Marc Gales, Chief Executive of Wrightbus, said, "We are honoured to work together with the Go-Ahead Group to provide our industry-leading zero-emission buses for these important routes. Public transport is a key area in the UK's zero carbon ambitions and hydrogen has a vital role to play. Collaborations such as this one show the potential of UK industry to meet this challenge that we face."
Matt Furniss, Cabinet Member for Transport, Infrastructure and Growth said, "I am delighted that Surrey County Council and Metrobus continue to work together to help deliver our ambition to become a net zero county by 2050, to improve public transport and to encourage more people to use buses in Surrey.
Surrey County Council has invested £16.4m to roll out 34 of 54 hydrogen fuel cell buses across the county – creating one of Britain's largest hydrogen bus fleets and offering our residents cleaner, greener bus travel.
We're also investing in bus priority measures to make sure buses turn up on time, more real time passenger information for users to plan journeys and providing more on-demand bus services."
Ends.
Contact Information
Go-Ahead Communications
Notes to editors
Notes to editors:
About Fastway, Metrobus
Metrobus is a forward-thinking bus operator with a fleet of 137 buses operating across 50 routes in Sussex, Surrey and Kent
Metrobus link the towns of Crawley, Horsham, East Grinstead, Redhill and Reigate. It provides services as far south as Brighton & Worthing. As far east as Tunbridge Wells and to the north as far as Sutton.
Metrobus currently provide over 12 million passenger journeys a year
As part of the Metrobus climate change strategy the company is committed to providing a decarbonised fleet by 2035 and a net zero carbon target by 2045
Metrobus is part of the Brighton & Hove Bus and Coach Company Ltd. that is an operating company of Go-Ahead. Between the two companies, our passengers make 60 million journeys per year. This is more bus journeys per head of the population than anywhere in the UK outside of London.
About Go-Ahead
Go-Ahead is a leading public transport operator. In the UK, we run a fleet of more than 6,000 buses, including one in four London buses. Internationally, we operate buses in Singapore, Ireland, Sweden and Australia.
We run the UK's largest rail contract, GTR (Southern, Great Northern and Thameslink), as well as rail services in Germany and Norway. Go-Ahead employs 27,000 people and is part of a global mobility platform owned by Kinetic and Globalvia.
About Gatwick
London Gatwick is the UK's second largest airport and is a vital piece of national infrastructure that helps drive both the regional and national economy. More than 40 airlines fly from the airport to over 150 short-haul and more than 45 long-haul destinations. The airport is focused on rebuilding and growing sustainably in the long term. It has ambitious plans to be a net zero airport by 2030 and increase capacity by bringing its Northern runway into routine use. VINCI Airports owns a 50.01% stake in the airport, with Global Infrastructure Partners managing the remaining 49.99% interest.
About Wrightbus
Wrightbus is a leading zero-emission bus provider in the UK. The company has a long-stated ambition of reducing the environmental impact of public transport.
Wrightbus developed and delivered the world's first hydrogen double deck bus and the world's most efficient battery-electric double deck.
It is now the only bus manufacturer in Europe that produces single and double deck hydrogen and battery electric buses.
Its fleet of zero-emission buses have travelled more than four million miles since they first entered service in 2021.
About JIVE 1 and 2 projects
The overall objective of the JIVE projects is to promote the commercialisation of fuel cell buses through the use of vehicles and infrastructure on a large-scale so that at the end of the project fuel cell buses are commercially viable for bus operators and can be incorporated into their fleets without subsidies. The JIVE and JIVE2 projects have received funding from the Clean Hydrogen Partnership (former Fuel Cells and Hydrogen 2 Joint Undertaking) under grant agreement No 735582 and 779563. This Joint Undertaking receives support from the European Union's Horizon 2020 research and innovation programme, Hydrogen Europe, and Hydrogen Europe Research. For more information, please visit www.fuelcellbuses.eu.
About the FCH JU
The Clean Hydrogen Partnership (as per its legal name Clean Hydrogen Joint Undertaking) is a unique public private partnership supporting research and innovation (R&I) activities in hydrogen technologies in Europe. For more information, please visit www.clean-hydrogen.europa.eu.
About Surrey County Council
In 2022, Surrey County Council adopted a new Transport Plan for Surrey. Our new plan made bold and ambitious commitments to transform our transport network, the aim being to meet our ambition to become a net zero county by 2050.
A key element of our new transport plan is to invest in public transport. Surrey County Council is investing £16.4m to purchase 34 of the 54 buses hydrogen fuel cell buses. Our investment is supported by further funding for more bus priority measures to make sure the bus turns up on time, plus more real time passenger information to help residents make better travel choices and more on-demand bus services across the county.
The 54 buses hydrogen fuel cell buses will deliver a carbon saving of over 5 million kg per annum. Additionally, the cascade of less polluting Euro 6 buses onto routes currently operated by Euro 3, 4 and 5 buses will deliver an additional carbon saving. This means Horley, Redhill, Reigate, Epsom, along with other areas of Mole Valley, Reigate & Banstead and Tandridge will benefit from reduced transport emissions.
About Air Products
Air Products (NYSE:APD) is a world-leading industrial gases company in operation for over 80 years focused on serving energy, environmental, and emerging markets. The Company also develops, engineers, builds, owns and operates some of the world's largest industrial gas and carbon-capture projects, supplying world-scale clean hydrogen for global transportation, industrial markets, and the broader energy transition.
Air Products had fiscal 2022 sales of $12.7 billion from operations in over 50 countries and has a current market capitalization of over $60 billion. For more information, visit airproducts.com or follow us on LinkedIn, Twitter, Facebook or Instagram.