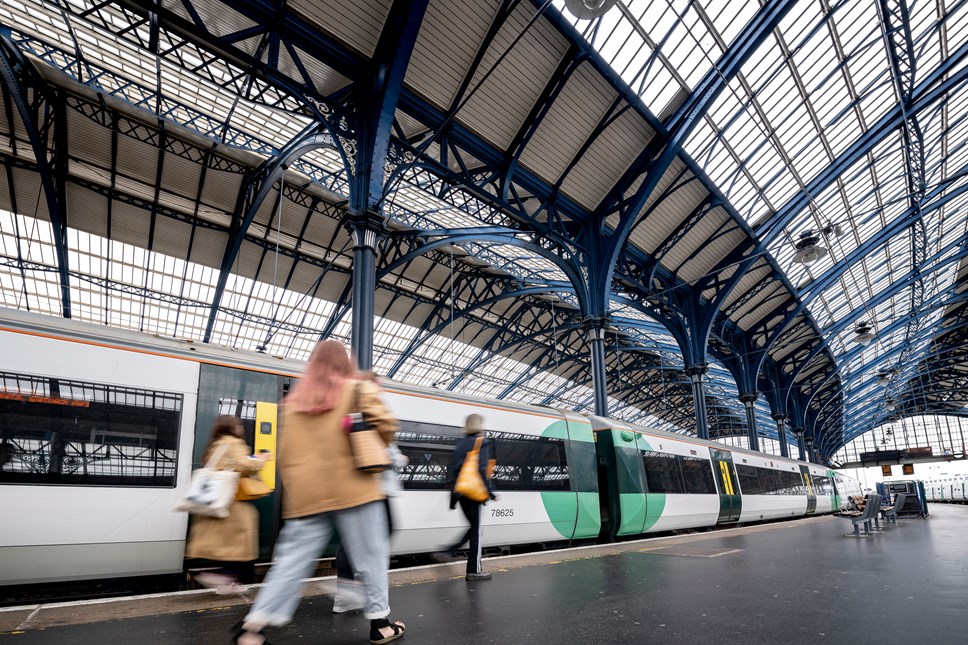 Full year results for the year ended 30 June 2018
Business overview
Good progress made in all three strategic pillars: protect and grow the core; win new bus and rail contracts; prepare for the future of transport
Overall results ahead of expectations
Bus operating profit pre-exceptional items at £91.4m (2017: £90.7m); regional bus achieved highest ever passenger satisfaction score (91%)
Rail operating profit at £44.5m (2017: £59.9m), due in part to the expiry of the London Midland franchise in December 2017
GTR impacted by industry implementation of May timetable change; reliability significantly improved since subsequent July timetable amendment
Southeastern rail franchise extended to 1 April 2019; shortlisted for the replacement franchise
Further progress towards our international target; won second bus contract in Ireland and fourth rail contract in Germany
Successfully launched UK's largest demand responsive bus transport service
Maintained full year dividend of 102.08p (2017: 102.08p)
Financial summary
FY'18


FY'17


Increase/
(decrease)
%

Revenue (£m)

3,461.5

3,481.1

(0.6)

Operating profit pre-exceptional items (£m)

135.9

150.6

(9.8)

Profit before tax (£m)

145.7

136.8

6.5

Basic earnings per share pre-exceptional items (p)

181.6

207.7

(12.6)

Basic earnings per share after exceptional items (p)

207.2

207.7

(0.2)

Proposed full year dividend per share (p)

102.08

102.08

-
FY'18

FY'17

Increase/
(decrease)
£m

Cashflow generated from operations (excluding restricted cash) (£m)

232.8

224.4

8.4

Free cashflow (£m)

57.7

11.6

46.1

Adjusted net debt (£m)*

289.0

285.8

3.2

Adjusted net debt/EBITDA*

1.30x

1.30x
* Adjusted net debt is net cash less restricted cash
David Brown, Group Chief Executive, commented:
"I'm pleased to report full year results that are ahead of our expectations. Our bus operations performed resiliently with profits slightly up on last year despite a challenging market environment. Rail profits fell partly due to the expiry of the London Midland franchise in December, but one-off disposal gains at the end of the franchise and some cost improvement benefits at Southeastern led to a better performance than originally expected.
"Our regional bus business received customer satisfaction levels of 91%, the highest ever recorded in the sector. Our London bus business also improved its operational performance with punctuality levels 12.5% better than last year. In rail, the timetable change in May was the largest in decades and will deliver substantial customer benefits. In Southern, the timetable change supported continuing improvement, with services now operating at the highest level of reliability since before the start of the current franchise.
"In Thameslink and Great Northern, collective industry failures over the timetable change resulted in a period of service performance which was severely below our expectations and those of our customers. We are sorry for the significant disruption that the change caused to our passengers and are working very hard with the rest of the industry to improve the service. The interim timetable that has been in place since mid-July is providing a much improved train service in terms of both reliability and punctuality. More services will be introduced over the coming months.
"Our international strategy has progressed well with two further contract successes – a second bus contract in Ireland and a fourth rail contract in Germany. Annualised revenue from the seven international contracts secured to date is now around £250m, and there is a good pipeline of upcoming opportunities in our target markets. We remain on track to meet our target of generating 15% to 20% of Group operating profit from international operations by 2022.
"As we look ahead, we recognise that future transport needs of customers and society are changing, and we are actively pursuing initiatives to further benefit our customers. Projects include the launch of the UK's largest demand responsive bus transport trial of high-quality minibuses in Oxford, working with logistics partners on utilising our spare depot capacity, environmentally friendly car sharing schemes, developing Mobility as a Service apps for end-to-end journeys, and launching a business accelerator programme for start-up and scale-up businesses looking to shape the future of transport.
"Go-Ahead is one of the UK's largest providers of public transport and we have a crucial role in building a thriving economy, connecting people and communities, reducing congestion and improving air quality. We are focused on doing business in the right way and strive to deliver value for all our stakeholders – great services for our customers; an attractive workplace for our people; sustainable returns for our shareholders; effective partnerships with government and suppliers; and connecting communities.
Outlook
"For the Group overall, we expect to deliver a robust performance in 2018/19, taking into account the expiry of the London Midland franchise last year which contributed positively for the first six months of 2017/18. We expect free cash flow generation to be strong, resulting in a further reduction in net debt excluding restricted rail cash.
"Looking forward, we remain confident that we are in a good position to deliver long term value for all our stakeholders and deliver our vision of a world where every journey is taken care of."
ENDS