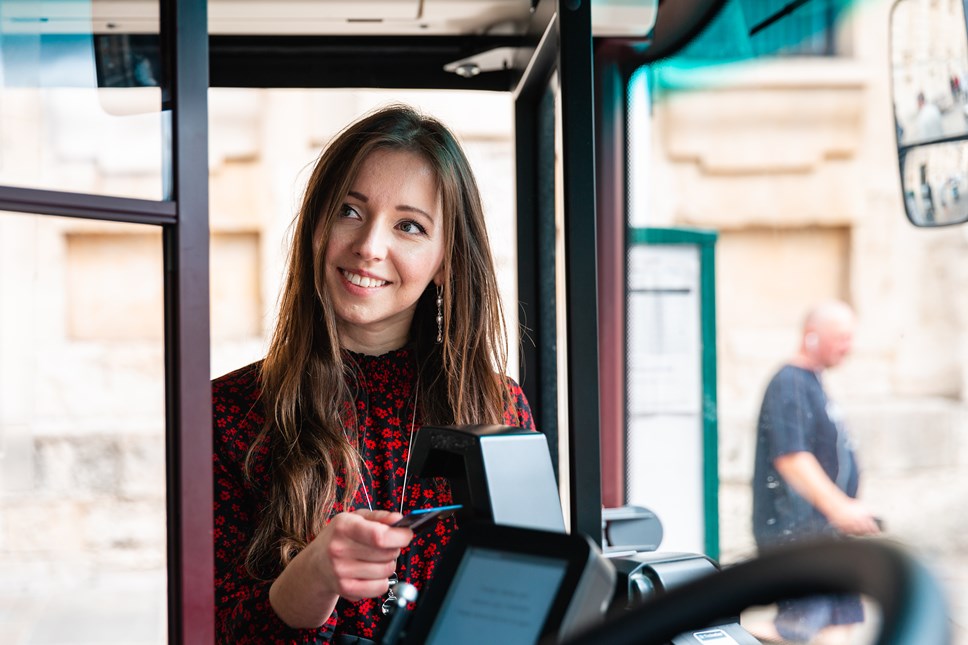 Digital revolution: swifter journeys as passengers abandon cash
Cash payments on buses drop from 53% of transactions to 23% in three years
Contactless bank cards, smart phone payments and smart cards become the dominant way to pay for journeys
Five million journeys to date on Go-Ahead buses using 'Tap On, Tap Off' technology
Digital payments can save up to three minutes at busy bus stops
Three quarters of passengers now pay digitally when they board Go-Ahead's regional buses – with an increasing number 'tapping on' and 'tapping off' when they make a journey.
Instead of cash, customers are adopting bank cards, smart watches, phones and smart cards to pay for their journeys. As well as being simpler and easier for many customers, this shift can cut dwell time by up to three minutes at busy bus stops.
The proportion of cash payments has dropped from 53% in August 2018 to 23% this month. The figures exclude London buses, which stopped taking cash altogether in 2014, but include services at Go-Ahead's nine regional bus companies across England which run nearly 3,000 buses.
The shift has accelerated in 2020 and 2021 as the COVID-19 pandemic triggered a shift away from cash across the economy. Cash payments UK-wide dropped by 35% during 2020 according to UK Finance, having previously been falling by 15% annually.
Go-Ahead was one of the first bus operators to roll out contactless payments across its entire bus fleet. Under a further modernisation, Go-Ahead is introducing "Tap On, Tap Off" technology under which passengers tap their cards at the beginning and end of their journey and are automatically charged the correct fare. Payments are capped at a daily limit, meaning that people who take multiple bus journeys in a day will not be overcharged.
The number of 'Tap-On, Tap-Off' transactions topped five million this month at Go-Ahead's bus fleets in Brighton & Hove, Crawley, Southampton, the Isle of Wight and Gateshead.
Currently covering 30% of Go-Ahead's buses outside of London, the company aims to have 60% of buses installed with Tap On, Tap Off technology by the end of September 2021.
Go-Ahead's Commercial Director Mark Anderson said: "Customers want a quick, simple way to pay when they catch a bus. While digital payments have been increasing in popularity for years, the COVID-19 pandemic has proven to be a tipping point.

"New technology is helping us to speed up bus journeys by cutting crucial seconds and minutes off dwell times at stops. And installation of 'tap on, tap off' technology will take that further by automatically calculating the fare for any journey.

"We know, though, that digital payments can be challenging for some. We're working with customers' groups to ensure that easy payment options are available for everybody."

Go-Ahead is seeking to establish more 'multi-operator ticketing' with other bus companies – where customers can pay a set price to travel, even if they use multiple different operators. The first smart trial will launch next spring in the Bournemouth-Christchurch-Poole area with Yellow Buses.
In addition, Go-Ahead is gathering feedback from customers without bank accounts to develop convenient and commercially sustainable solutions that work for all.
Contact Information
Go-Ahead Communications
Notes to editors
More photos available on request.