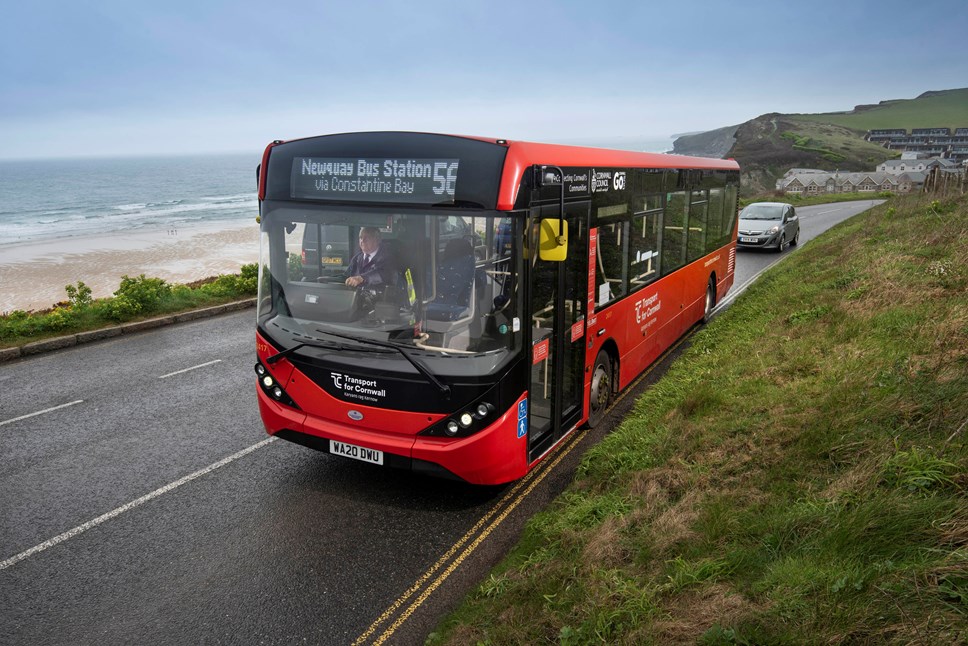 Bus fares cut across Cornwall as Go-Ahead delivers trailblazing low fares pilot
Ticket prices across Cornwall cut by between 20% and 40% from April 10
Government-backed scheme will measure impact on travel habits across the county over four years
Visitors to Cornwall will benefit from cheaper buses in tourist areas this summer
Ticket prices on buses operated by Go-Ahead Group in Cornwall have been cut by up to 40% under a Government-backed pilot scheme, "Make Big Savings By Bus", to persuade motorists to leave their cars at home.
Beginning on April 10th, a four-year scheme will measure the extent to which lower fares can stimulate a change in travel behaviour by kick-starting growth in bus use. Transport for Cornwall has set a goal of increasing bus usage by 10% across the county.
The initiative, funded by Transport for Cornwall using a £23.5 million grant from the Department for Transport, stretches the length of Cornwall, from the River Tamar to the Land's End peninsula, taking in towns and cities including Truro, Newquay, Redruth, Falmouth, Camborne, St Ives and Penzance.
Go Cornwall Bus is the county's largest bus operator, operating over 100 routes carrying 90,000 passengers per week. Go-Ahead has invested £25 million in rural transport services in the county since entering Cornwall in 2020.
The pilot scheme follows an "any ticket, any bus" initiative making tickets interchangeable between Cornwall's bus companies. It is consistent with goals under the Government's National Bus Strategy to encourage partnership working between operators and local authorities, and to promote the social, economic and environmental benefits of bus usage.
Fares under the scheme will include:
£2.50 a day or £10 a week for adults within Cornish Towns
£5 a day or £20 a week for adults for travel across Cornwall
Adult singles from £1.60, returns from £2.40
Family ticket for £10 a day, up to 2 adults and unlimited children under 16
Baroness Vere, the Buses Minister, said: "The launch of this excellent scheme across Cornwall is a significant moment in our ambition to level up transport links across the country. Backed by a £23.5m Government investment, we want to place Cornwall at the leading edge of a national bus revolution, which will underpin our drive towards net-zero, increase connectivity between communities and provide relief at the ticket booth at a time when finances are tight."

Mark Anderson, Go-Ahead's Customer and Commercial Director, said: "With petrol prices soaring, this is a timely initiative aimed at persuading motorists to switch to buses in a largely rural part of England. It's a win-win both for locals all year round and for visitors, who will be able to take cheaper buses to Cornwall's spectacular beaches this summer.

"To become carbon neutral as a country by 2050, we need to encourage people to switch from car to bus. Investment in fares is a useful tool alongside bus priority schemes, flexible ticketing and digital payments to make journeys as swift and easy as possible."

Steve Double, MP for St Austell and Newquay, said: "Cheaper bus journeys will help Cornish young people get to school or college and will make it easier to access jobs for those living in rural areas, something which can be a barrier to getting and keeping work for so many. This trailblazing initiative is incredibly welcome and I'm delighted to see Cornwall once again leading the way with an innovative scheme as a rural area, leading the charge nationally in the Government's goal of levelling up and encouraging more people to travel by bus."
Contact Information
Go-Ahead Communications
Notes to editors
Enquiries:
Andrew Clark 07977 343846
Anupa Devi 07773 668485
Please credit pictures to: Emily Whitfield-Wicks/PA Wire