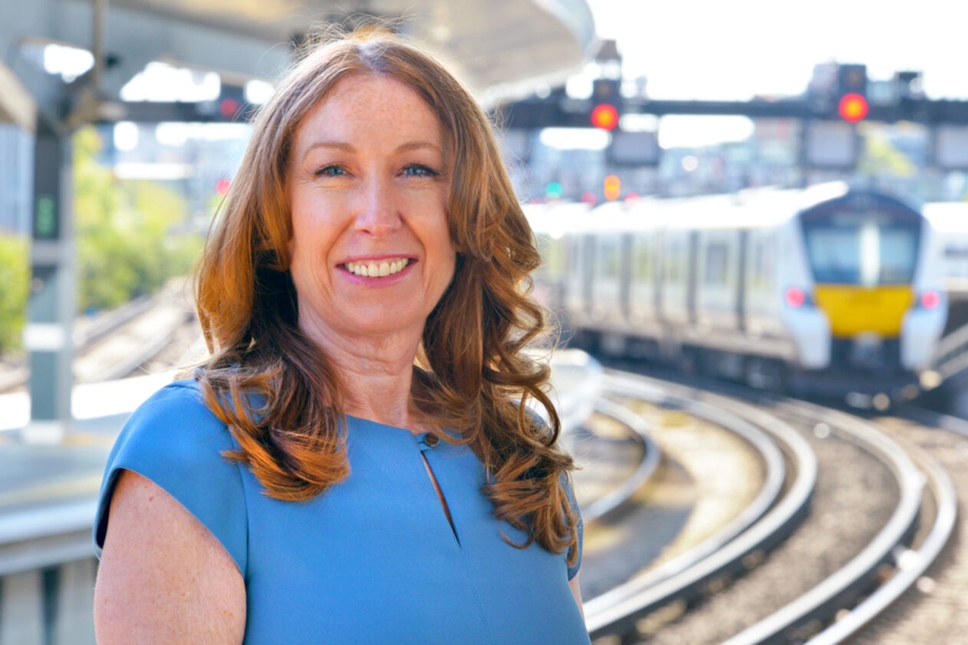 Angie Doll appointed Chief Executive Officer of Govia Thameslink Railway
Leadership transition at Britain's biggest rail company with effect from the end of November
Angie Doll steps up from Chief Operating Officer to become Chief Executive Officer
After five years at GTR, Patrick Verwer moves to The Go-Ahead Group as Rail CEO
Govia Thameslink Railway announces today that Angie Doll is to become its Chief Executive Officer at the end of November, replacing Patrick Verwer who is stepping away from day-to-day management of Britain's largest rail network.
The appointment has been made by The Go-Ahead Group and Keolis, joint owners of GTR – which delivers a fifth of all UK passenger rail journeys through its Thameslink, Southern, Great Northern and Gatwick Express services.
Angie is presently Chief Operating Officer of GTR – a role she has held since October 2021. Prior to that, she was Managing Director of Southern and Gatwick Express. She joined the railway industry in 1999 as station manager in Brighton, and has held a series of senior passenger delivery and strategic positions at Go-Ahead rail operating companies.
Her achievements include leading the UK's first domestic high-speed train services at Southeastern, introducing a new Gatwick Express fleet and leading Southern to become National Passenger Operator of the Year in 2021. An advocate for diversity in the workplace, she has won the Everywoman Transport and Logistics Champion award and the Rail Business Award for Diversity, and she is a champion for youth employability.
The leadership handover at GTR enables Patrick Verwer to move to The Go-Ahead Group to take on a strategic role as Rail CEO. He will oversee rail development projects at Go-Ahead, which operates rail networks in Germany and Norway as well as the United Kingdom and has plans to expand in light rail under its 'Next Billion Journeys' strategy.
Christian Schreyer, Group Chief Executive Officer, The Go-Ahead Group, said:
"Angie is a superb leader with a true instinct for the railways, and a keen eye for the needs of passengers. She has excelled in every role she's held at Go-Ahead and she is the ideal person to steer GTR to its next phase of growth.

"I'd like to thank Patrick for his outstanding achievements in leading Britain's busiest and most complex rail network over the last five years. He has delivered many innovations and he's built a strong, stable and consistent service over a period in which the industry has faced significant challenges. I'm delighted he will be taking on a broader role at Go-Ahead, bringing fresh thinking, as well as years of experience to help us grow our rail business. I very much look forward to continuing working alongside him."
Angie Doll said:
"This railway is very close to my heart and I feel proud and honoured to be taking on this new challenge. I very much look forward to leading the wonderful teams at Govia Thameslink Railway, so we build on the great progress we've already made. Partnering with our stakeholders and industry colleagues to deliver for our customers is going to be my absolute focus, so we meet customers' needs, connect people and help communities thrive. "
Patrick Verwer said:
"It has been an absolute pleasure working with the GTR team. They have shown dedication, true customer focus and incredible resilience. Together we have delivered significant innovation and development across London and the South East, including improvements to customer information and service punctuality, more focus on security and safety, as well as improvements to accessibility and diversity. I am absolutely delighted to be handing over the reins to Angie Doll later this year, and very much look forward to starting my new role at The Go-Ahead Group."
Contact Information
Go-Ahead Communications