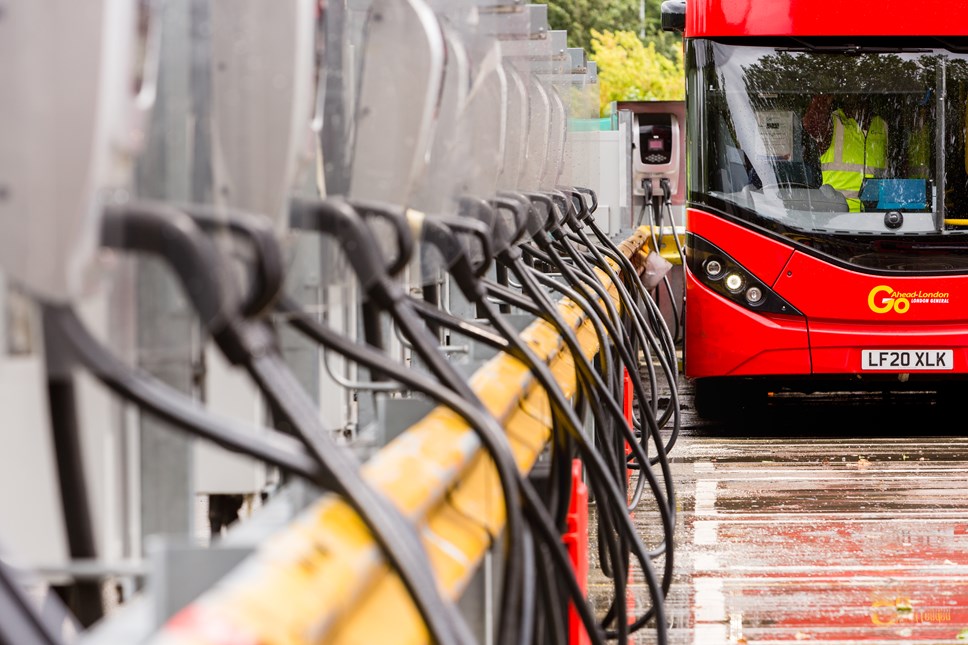 A year of progress: Go-Ahead advances along the road to Net Zero
Centre of Excellence for zero emission vehicles to be established in London
High voltage electric substation installed in Oxford for upcoming electric bus fleet.
Proof of concept demonstrated for Bus2Grid technology
Fleet of hydrogen buses ordered for the Crawley, Redhill, and Gatwick area
The Go-Ahead Group has taken significant steps towards decarbonising its business in the 12 months since the launch of the group's climate change strategy in July 2021, which set out an ambition of becoming a net zero company by 2045.
To bring together expertise within the group on electric and hydrogen buses, the group will shortly open a Zero Emission Centre of Excellence in London. Go-Ahead is the capital's largest operator of electric buses.
Other recent developments include the installation of a substation at Oxford Bus Company's Cowley depot, ready for a programme under which funding has been secured from the Zero Emission Bus Regional Areas (ZEBRA) scheme for 159 electric buses to be deployed in Oxford.
To mark Net Zero Week 2022 (2 – 8 July), Go-Ahead is proud to highlight its efforts to date in, taking the lead in Net Zero initiatives for UK transport:
Brighton & Hove and Metrobus purchased 20 hydrogen buses for its operations in Crawley, Redhill, and the Gatwick Airport area, with the possibility of a follow-up order for a further 34 vehicles.
Proof of concept has been demonstrated of "Bus2Grid", under which a bus has discharged remaining electricity back into the grid at the end of its daily duties. The project is taking place at Go-Ahead London's Northumberland Park depot, which is one of Europe's largest overnight charging depots for electric buses.
In November 2020, Go-Ahead launched the first fully electric bus fleet in the North East of England, providing 55,000 journeys and covering 300,000 miles across Newcastle and Gateshead each year.
Hatfield station, part of the Govia Thameslink Railway network, is home to the UK rail network's biggest charging hub for electric vehicles.
Govia Thameslink Railway's Class 700 fleet recycles 15.8GWh of energy returned into the network to power additional services, decreasing energy demand by more than 50% on the rolling stock it replaced.
Geofenced buses have been introduced in Brighton which automatically switch to zero-emission mode when they pass into specified zones of the city centre which face challenges in air quality.
Go-Ahead's buses on the south coast of England and in Singapore have been fitted with solar panels. Weighing 20kg, these can generate 1kW of energy to charge the batteries on the buses.
Go-Ahead achieved a 27% reduction in carbon emissions between 2016 and 2021.
Mark Anderson, Go-Ahead's Customer and Commercial Director, said: "There is still much more to be done, but we are making great progress towards our net zero targets. We are working hard to make sure that everything we do meets the targets we have set to cut emissions.
But we can only go so far by decarbonising our own business. The real key for the transport industry in addressing climate change is for people to leave their cars at home and switch to walking, cycling and public transport. We hope that bus priority schemes, and initiatives to promote rail and bus travel, will do just that".
Contact Information
Go-Ahead Communications
Notes to editors
Notes to Editors
The Groups 'Next Billion Journey's' business strategy reaffirms the company's commitment to reduce carbon emissions by 75% by 2035.
Go-Ahead Group's science-based decarbonisation targets are based on the following goals:
Overall emissions to be cut 75% by 2035 and to Net Zero by 2045 – five years earlier than UK government target
Conversion of Go-Ahead's entire fleet of 5,000 UK buses to zero emission vehicles by 2035
A decarbonized rail fleet by 2035
Improvements to air quality by 2025 through a 17% drop in carbon monoxide emissions, a 49% cut in hydrocarbons, a 63% fall in nitrogen oxides and a 50% cut in particulate matter from vehicles
A significant improvement in energy efficiency at all Go-Ahead premises by 2035
Transition of our ancillary fleet of 350 vehicles, relatively quickly (est. 5 years) for standard vehicles where options already exist, but with a slower roll-out for a few specialist vehicles where EV alternatives are still being developed.