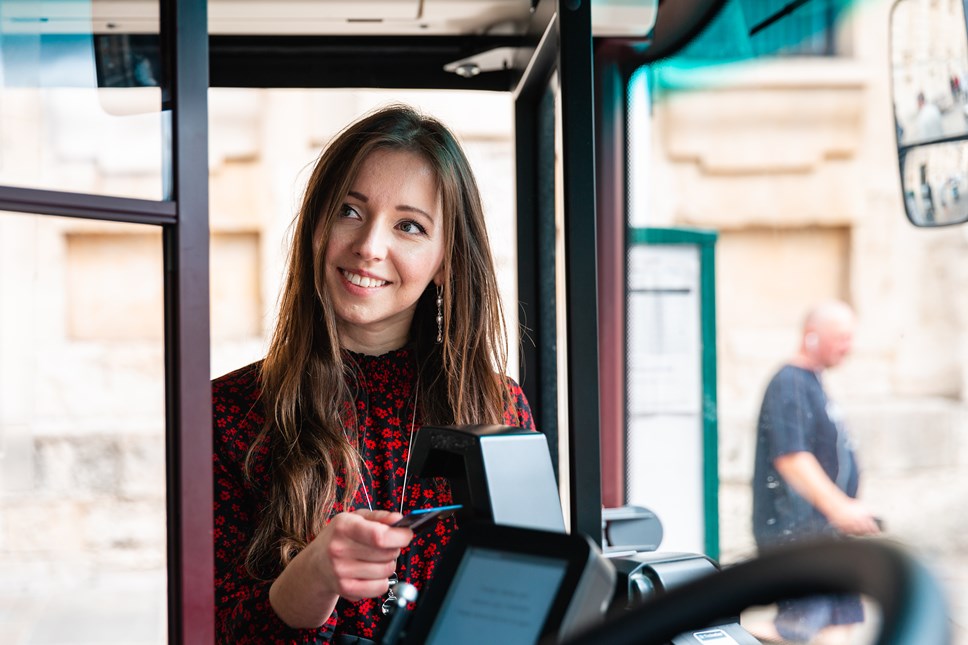 1,000,000 customer journeys tap the opportunity to pay contactless
Over 1 million Tap On, Tap Off transactions completed – 70,000 per week and rising
34,400 passengers experienced savings as a result of fare caps
Tap-on, tap-off contactless used to pay for 29.2% of on-bus payments
Less than 10% of passengers on Brighton & Hove buses are now paying with cash
Go-Ahead's Brighton & Hove Buses and Metrobus companies have recently achieved one million transactions on their Tap On, Tap Off ticketing system they launched last September.
Passengers in Sussex, Kent and Surrey have embraced the ease and convenience of this new digital payments system, experiencing reduced boarding times and cost-savings as a result.
The uptake has confirmed strong demand for fast, frictionless payment experiences.
Offering a simple way to pay for travel across both services, the system invites passengers to Tap On and Tap Off at the start and end of each journey using a contactless EMV payment method (Visa, Mastercard, Apple Pay, Google Pay).
The scheme allows daily fare caps to be applied over multiple operators' fare structures which means passengers automatically pay the best price for the journeys they make on the day after tapping on.
Brighton & Hove Buses' Commercial Director Nick Hill says:
"Tap On, Tap Off contactless has made it even easier to use our services without passengers needing to know the fare or how many journeys they'll make. This is reflected in the strong take-up locally and the fact that fewer people are paying by cash on the bus than ever before. In turn, that can make boarding quicker, helping to make everyone's journey a little bit smoother."
On the back of the success in Brighton Go Ahead is looking to extend Tap on Tap off to other parts of the country.
Go-Ahead Group's Commercial and Customer Director says:
"Buses connect people to employment, education, and essential appointments. Offering capped fares via contactless makes it even easier for people to leave the car at home and make their journeys in a healthy and sustainable way. We're really pleased with the positive feedback we have had from customers who have used our tap-on-tap-off contactless and will be rolling it out to other Go-Ahead companies to benefit more customers nationwide."
The Tap On, Tap Off, multi-operator ticketing scheme, created by Littlepay, was Highly Commended in the Ticketing Technology of the Year category at the Transport Ticketing Awards on January 27th at London's Science Museum.
Contact Information
Go-Ahead Communications